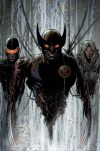 COVER BY: Phil Jimenez
WRITER: Warren Ellis
PENCILS: Phil Jimenez
INKS: Array
COLORED BY: Frank D'Armata
LETTERED BY: Chris Eliopoulos

THE STORY:
"EXOGENETIC," PART 3 Dead mutants turned into biological weapons…genetically-reprogrammed Brood sleazoids…missing data on Henry McCoy's research computers…the truth about what Abby Brand was trying to burn out on Cruithne. It all adds up to an attempt to remove mutantcy from the planet Earth entirely -- and the rise of the Bio-Sentinels.
Not a subscriber to Marvel Digital Comics Unlimited yet? Join now!
Download SPIDER-WOMAN and ASTONISHING X-MEN Motion Comics now on iTunes! For more information on motion comics, visit the Marvel Motion Comics hub!"
Download episodes of "X-Men: Evolution", "Wolverine and the X-Men", "Fantastic Four: World's Greatest Heroes" and "The Super Hero Squad Show" now on iTunes!

Check out the official Marvel Shop for your favorite Marvel Heroes!