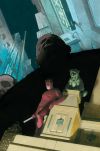 COVER BY: Esad Ribic
WRITER: Andy Diggle
PENCILS: Roberto De La Torre
INKS: Array
COLORED BY: Matt Hollingsworth
LETTERED BY: Chris Eliopoulos

THE STORY:
It's blood, sweat, and brutal truths as the new creative team of Andy Diggle (THUNDERBOLTS) and Roberto De La Torre (IRON MAN) continue their first breathtaking story arc! While the Kingpin secretly builds his power base, Daredevil and Master Izo collide violently over the future of the guild of assassins known as The Hand, and Foggy fears the Matt Murdock he once knew may be gone for good.
Not a subscriber to Marvel Digital Comics Unlimited yet? Join now!
Download SPIDER-WOMAN and ASTONISHING X-MEN Motion Comics now on iTunes! For more information on motion comics, visit the Marvel Motion Comics hub!"
Download episodes of "X-Men: Evolution", "Wolverine and the X-Men", "Fantastic Four: World's Greatest Heroes" and "The Super Hero Squad Show" now on iTunes!

Check out the official Marvel Shop for your favorite Marvel Heroes!