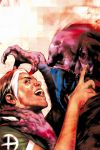 COVER BY: Daniel Acuna
WRITER: Mike Carey
DUANE SWIERCZYSNKI
PENCILS: Daniel Acuna
Steve Dillon
INKS: Array
COLORED BY: Daniel Acuna
THE STORY:
It's Rogue and Trance vs. Emplate -- a villain who has single-handedly taken down teams of X-Men A-Listers. Do they stand a chance? We sure hope so as X-MEN LEGACY #231 is on sale two weeks later! Don't miss the killer climax to the huge first arc of the new direction on X-MEN LEGACY! Plus, a Cable backstory!
Not a subscriber to Marvel Digital Comics Unlimited yet? Join now!
Download SPIDER-WOMAN and ASTONISHING X-MEN Motion Comics now on iTunes! For more information on motion comics, visit the Marvel Motion Comics hub!"
Download episodes of "X-Men: Evolution", "Wolverine and the X-Men", "Fantastic Four: World's Greatest Heroes" and "The Super Hero Squad Show" now on iTunes!

Check out the official Marvel Shop for your favorite Marvel Heroes!