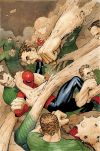 COVER BY: Paolo Manuel Rivera
WRITER: Fred Van Lente
PENCILS: Javier Pulido
INKS: Array
COLORED BY: Javier Rodriguez
LETTERED BY: VC - Joe Caramagna

THE STORY:
A locked room mystery! A string of brutal murders! A missing girl! One of Peter Parker's closest friends on the brink of ruin! This looks like a job for the Amazing Spider-Sleuth... and all clues point to the sinister SANDMAN! But all of Spidey's classic villains are being reinvented as part of "THE GAUNTLET", and Sandy is no different -- so nothing is what it seems!
Not a subscriber to Marvel Digital Comics Unlimited yet? Join now!
Download SPIDER-WOMAN and ASTONISHING X-MEN Motion Comics now on iTunes! For more information on motion comics, visit the Marvel Motion Comics hub!"
Download episodes of "X-Men: Evolution", "Wolverine and the X-Men", "Fantastic Four: World's Greatest Heroes" and "The Super Hero Squad Show" now on iTunes!

Check out the official Marvel Shop for your favorite Marvel Heroes!