By Tim Stevens
Aleksei Sytsevich is an adult male who appears to be of above average height and weight. However, due to the fact that the client refused to remove the suit that inspired his criminal alter ego, the Rhino, even cursory assessment of the physical nature of the client is impossible. Sytsevich claims, and available medical records reflect, that he suffers from no lasting physical ailments stemming from the years he was unable to take off a similar "Rhino" suit.
The client's speech pattern and presentation seem to indicate a preference for keeping things as simple as possible and little to no interest in intellectual pursuits. A Wechsler Adult Intelligence Scale assessment appears to confirm this presentation as Sytsevich scores just below average on each of the four subtests and on the Full Scale IQ. Additionally, the client claims that he was "once smart, but I got bored." Apparently, after an experiment boosted his intellect, he rapidly grew tired of being intelligent and engaged in self-destructive behaviors, including
the contemplation of suicide, until he devised a way to reduce his IQ once again. He claims to be far happier now with at this intellectual level. The writer has given the client a referral for an fMRI to make sure that neither the increase nor reduction in intellect caused permanent damage to the Sytsevich's brain.
Currently, the client is struggling with questions of identity at this juncture in his life. He originally had become the Rhino to make quick money easy and then decided to use that ability to get to the United States and pay his family's way as well. When his family found out where the money came from, they rejected him and being the Rhino became all about personal gain for him. Then, for a time, it was all he could do, due to the suit being bonded to his skin, and he sought out treatment after treatment to remove it. Then, it was back to for-profit crime. Recently he had a few significant encounters with the street vigilante known as the Punisher that seemed to inspire a new direction in his life. However, months later, the client finds himself ambivalent about continuing to pursue this new avenue; on the other hand, the prospect of returning to smash and grabs and fights with Spider-Man does not exactly thrill him either. He seems ultimately resigned to the idea of returning crime as that is "all this head is good for anyway," he said, pointing to the large horns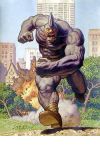 that protrude from his hood.
Given the client's state of mind and limited tolerance for intellectual activities, the writer has decided to focus on the concrete elements of Sytsevich's difficulties, primarily lack of career options. Going forward, the writer will do a few career-oriented surveys with the client and begin to connect him with training groups in the city who work with former criminals looking for avenues out of their previous lives.
While the client did not seem entirely onboard with this approach, he did not reject it entirely either. Additionally, he expressed that he did not hate the session as much as he expected and did agree to return.
Aleksei Sytsevich's next appointment is set for January 13 with Doctors Joe Kelly and Max Fiumura. For further details on the client, please review file AMAZING SPIDER-MAN #617.
Tim Stevens is a Dialectical Behavior Therapy Consultant and Doctoral Intern at a college counseling center currently pursuing his Psy D. who has experience working with individuals with criminal records looking for new careers.
Not a subscriber to Marvel Digital Comics Unlimited yet? Join now!
Download SPIDER-WOMAN and ASTONISHING X-MEN Motion Comics now on iTunes!
For more information on motion comics, visit the Marvel Motion Comics hub!"
Download episodes of "X-Men: Evolution", "Wolverine and the X-Men", "Fantastic Four: World's Greatest Heroes" and "The Super Hero Squad Show" now on iTunes!

Check out the official Marvel Shop for your favorite Marvel Heroes!