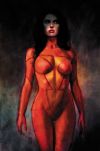 COVER BY: Alex Maleev
WRITER: Brian Michael Bendis
PENCILS: Alex Maleev
INKS: Array
COLORED BY: Alex Maleev
LETTERED BY: VC - Cory Petit

THE STORY:
It's Spider-Woman versus the Thunderbolts. That's right...all of them. A daring chase through the streets of Madripoor finds Jessica Drew pushing herself to the limit with nowhere to turn. Another dazzling chapter from the Eisner award-winning team of Bendis and Maleev featuring tons of material not seen in the accompanying motion comic.
Not a subscriber to Marvel Digital Comics Unlimited yet? Join now!
Download SPIDER-WOMAN and ASTONISHING X-MEN Motion Comics now on iTunes! For more information on motion comics, visit the Marvel Motion Comics hub!"
Download episodes of "X-Men: Evolution", "Wolverine and the X-Men", "Fantastic Four: World's Greatest Heroes" and "The Super Hero Squad Show" now on iTunes!

Check out the official Marvel Shop for your favorite Marvel Heroes!