By Tim Stevens
At the behest of the Roxxon Corporation, this writer is assessing the newest member of the Saturday Night Battlezone family, Deathlok.
Deathlok is a half-man-half-machine being who, the writer has been informed, consists of former Battlezone superstar Mike Travers and his fellow soldier Luther Manning. Its appearance reflects this as it is equal parts metal and damaged flesh.
Given Roxxon's refusal to allow the writer contact with anyone in charge of the program to protect proprietary technology from corporate espionage, it has proven difficult to assess what sort of lasting physical trauma the client may be suffering from. Traditional methods of physical examination reveal badly scarred skin, but seemingly no pain reactions. Reflexes are also un-reactive. The metal appears to be fused directly into the skin and also does not respond to pain or typical reflexive stimulation.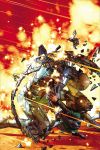 Mentally, the client fluctuates between states of wholly unresponsive catatonia, a mindless desire to fight, and vague garbled responses, often involving mention of building or painting models, gladiators, and a woman named Janice. Regardless of what state it is in at any given moment, Deathlok rarely, if ever, makes eye contact and appears entirely unaware of the world around it. Even at the client's most lucid, it appears to be acting within a vivid all-encompassing hallucination that involves both auditory and visual stimulation at the least. It would not surprise the writer if the client's other three senses are being similarly absorbed in the fantasy world.
As such, efforts to speak directly to Travers, Manning or even the Deathlok unit as a singular being have proven impossible. The writer cannot and will not guess how much of each exists in Deathlok and if there is any possibility either may currently have dominance or will in the future. All appearances lead this writer to believe that both men's minds were so shattered by their violent near-deaths and subsequent "merging" that whatever parts of them exist in Deathlok are unable to even perceive reality, never mind interact with it.
Because of this fact, this writer cannot recommend Deathlok for Saturday Night Battlezone at this time. From a human perspective, to do so would all but guarantee that the two men within would surely die another death almost immediately after stepping on the field of war. From a corporate
perspective, Deathlok is simply too expensive, one would expect, to throw away so recklessly.
The writer therefore recommends giving the client a few more weeks to see if either personality can regain some semblance of consciousness and, following that, display the combat skills they both once boasted. The writer understands this may hurt the Battlezone's ratings short-term, and perhaps Roxxon's bottom line, but it is the writer's understanding that to be truly profitable Deathlok most catch on with fans. A five minute appearance will not do so. In present condition, it is difficult to believe it would be able to achieve more.
Deathlok's next appointment is set for January 13 with Doctors Charlie Huston and Lan Medina. For further details on it, please review file DEATHLOK #3.
Tim Stevens is a Dialectical Behavior Therapy Consultant and Doctoral Intern at a college counseling center currently pursuing his Psy D.
Not a subscriber to Marvel Digital Comics Unlimited yet? Join now!
Download SPIDER-WOMAN and ASTONISHING X-MEN Motion Comics now on iTunes! For more information on motion comics, visit the Marvel Motion Comics hub
Download episodes of "X-Men: Evolution", "Wolverine and the X-Men", "Fantastic Four: World's Greatest Heroes" and "The Super Hero Squad Show" now on iTunes!
Check out the official Marvel Shop for your favorite Marvel Heroes!