By Tim Stevens
Quentin Beck is an adult male who reports being of average physical fitness. This was difficult for the writer to verify, however, as Beck refused to appear in session in anything besides his "costume," a suit that includes a mirrored ball that obscures both the client's head and the actual dimensions of his body. This costume is what Beck has worn for several years as he perpetrated crimes under the super villain alias Mysterio.
While, typically, the writer would at least insist on a client removing his or her mask, this procedure was suspended in the case of Beck. However, this writer considers this to be a special case as Beck reports having been dead and resurrected by "masters" he refuses to name. He explained to the writer that while "truly" alive, he developed cancerous tumors in his lungs and brain due to exposure to the various chemicals he used in his costumed identity. In a quest to "go out on top," he targeted the street vigilante Daredevil and was humiliated. His final attempt at legendary
super villain status thwarted, he successfully completed suicide by shooting himself. Later he was resurrected by these "masters."
Any attempt to question the validity of this story has been responded to by the client with a promise that if the writer wanted proof, a simple removal of his mask would display the cranial gunshot wound. Given how dedicated Beck is to his belief in his own death, resurrection, and current state of being controlled by others, the writer assesses the client's psychological state as being particularly fragile. Therefore, the removal of the mirrored ball may bring about a full psychotic break when the therapeutic relationship is nowhere near strong enough to contain that event.
Thus, the writer has opted to, instead of attacking the main delusion head-on at this time focus on the secondary consequences of this delusion. For example: how does the client feel about returning to his life after being absent from it for so long? What still appeals to him about crime given, by his own accounts, his myriad of failures? What does being "controlled" mean to him; does he resent it or is it freeing to not have to make his own decisions? In exploring these questions, the writer is hoping to both engender a strong bond with the client and to begin to subtly introduce reality cues into the delusion that, when the time is right, will make it easier to help Beck abandoned his skewed perspective.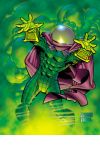 It should be noted, of course, that given his line of duty it is not impossible that the client may have been killed and brought back to life, possibly through some sort of occult ritual. If this is the case, then answering the above questions would still be important and will provide time for more substantial evidence of this resurrection to be uncovered.
However, it is the opinion of the writer at this time that Beck, master of illusion that he is, has somehow fallen for his own ruse. Utterly and repeatedly decimated and humiliated by the likes of Spider-Man and Daredevil, the client has chosen to recede into a fantasy world where he is special enough to be resurrected and free enough from his own will to not be shamed by failure as it would be, in essence, someone else's plan's fault. Getting the client to accept his failures and the reality that he is not and will never be a legendary villain is what the writer expects the therapy to ultimately go.
Quentin Beck's next appointment is set for January 27 with Doctors Dan Slott and Marcos Martin. Please review the file marked AMAZING SPIDER-MAN #619 for further details.
Tim Stevens is a Dialectical Behavior Therapy Consultant and Doctoral Intern at a college counseling center currently pursuing his Psy D.
Not a subscriber to Marvel Digital Comics Unlimited yet? Join now!
Download SPIDER-WOMAN and ASTONISHING X-MEN Motion Comics now on iTunes! For more information on motion comics, visit the Marvel Motion Comics hub!
Download episodes of "X-Men: Evolution", "Wolverine and the X-Men", "Fantastic Four: World's Greatest Heroes" and "The Super Hero Squad Show" now on iTunes!
Check out the official Marvel Shop for your favorite Marvel Heroes!