Have you read our exclusive Digital Comics yet? Marvel Digital Comics Unlimited offers all-new, all-awesome stories starring your favorite heroes only available to Marvel Digital Comics Unlimited subscribers. Stay tuned to Marvel.com for news on future exclusive Digital Comics!
Today: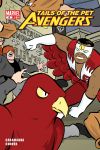 The Falcon's most trusted ally is hot on the heels of a jewel thief but that's the least of Redwing's problems. This time around, Redwing must also deal with a persistent super fan named Melvin! Will the pestering pigeon cause Redwing to lose his perp? Or will Melvin turn out to be the sidekick of the year?
TAILS OF THE PET AVENGERS #4
Written by: Joe Caramagna
Art by: Colleen Coover
Only available in Marvel Digital Comics Unlimited
Next Week:
Everyone's favorite pet dragon, Kitty Pryde's Lockheed, takes center stage! The little fire breather's set to torch your exclusive digital pages with high flying hijinks! This Pet Avenger's one winged wonder you won't want to mess with! Find out why!
TAILS OF THE PET AVENGERS #5
Written by: Buddy Scalera
Art by: Chris Eliopoulos
Only available in Marvel Digital Comics Unlimited
*All schedules are subject to change
To find a comic shop near you, call 1-888-comicbook or visit www.comicshoplocator.com
Not a subscriber to Marvel Digital Comics Unlimited yet? Join now!
Download SPIDER-WOMAN and ASTONISHING X-MEN Motion Comics now on iTunes! For more information on motion comics, visit the Marvel Motion Comics hub!"
Download episodes of "X-Men: Evolution", "Wolverine and the X-Men", "Fantastic Four: World's Greatest Heroes" and "The Super Hero Squad Show" now on iTunes!

Check out the official Marvel Shop for your favorite Marvel Heroes!