By Tim Stevens
Hisako Ichiki is a female in late adolescence. She appears to be in average to above average physical fitness and reports no physical difficulties. She self-identifies as a mutant and serves as a member of the mutant rights group known as the X-Men under the codename "Armor."
The client presents as in good mental health for the most part. She enjoys her role as a member of the X-Men and reports having developed several relationships that she finds supportive and rewarding. These relationships include friendships with same age peers and mentor-mentee relationship with adults. The writer does question the healthy nature of some of the mentor relationships, particularly with the X-Man "Wolverine" who seems to be, perhaps, not the best role model. However, there is no evidence, at this time, that it is having any adverse effects on the client. Therefore, while the relationship should be monitored, it is not a priority at this time.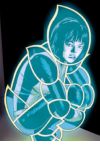 Despite Ichiki presenting as generally well, there are some areas of concern for the writer. In the past several months, the client has lost a close friend to suicide, moved first across the country and then to an island, and been attacked multiple times. Additionally, she has seen the relationship between mutants and "regular" humans take a turn for the worse after a period of seeming improvement. She has difficulty discussing these issues in any detail and will often look to change the subject or deny any concerns or thoughts on the matter.
She does not appear to have any nightmares, flashbacks, or hallucinations stemming from any of these incidents, which is a good sign. However, her unwillingness to discuss them at all is problematic and can often be emblematic of a possible adjustment disorder. Therefore, the focus of therapy going forward will be to help the client admit that she does have thoughts and/or feelings about recent events. When she reaches this point, the writer will then aid her in dealing with them in a healthy manner, one that honors what occurred while allowing her to live with it and,
eventually, move beyond it. Unfortunately, the writer observes that the therapeutic relationship is not yet strong and some nondirective free flowing sessions will be necessary before more in-depth work can begin.
Hisako Ichiki's next appointment is set for February 3 with Chuck Kim & James Harren and information on the session can be found in the file marked NATION X #3.
Tim Stevens is a Dialectical Behavior Therapy Consultant and Doctoral Intern at a college counseling center currently pursuing his Psy D who has experience working with individuals with Adjustment Disorders.
Download SPIDER-WOMAN and ASTONISHING X-MEN Motion Comics now on iTunes! For more information on motion comics, visit the Marvel Motion Comics hub!
Download episodes of "X-Men: Evolution", "Wolverine and the X-Men", "Fantastic Four: World's Greatest Heroes" and "The Super Hero Squad Show" now on iTunes!
Check out the official Marvel Shop for your favorite Marvel Heroes!