Have you read our exclusive Digital Comics yet? Marvel Digital Comics Unlimited offers all-new, all-awesome stories starring your favorite heroes only available to Marvel Digital Comics Unlimited subscribers. Stay tuned to Marvel.com for news on future exclusive Digital Comics!
Today:
Wolverine and Thor discover that an evil force is behind their temporary insanity. The two titans of the Marvel Universe go on an all out hunt for the person they believe is responsible...Loki! Who will remain standing when the dust settles? Find out NOW!
WOLVERINE VS. THOR #3
Written by: Frank Tieri
Art by: Paco Diaz
Only available in Marvel Digital Comics Unlimited
FALL OF THE HULKS: M.O.D.O.K. #1

M.O.D.O.K. has finally stepped out of the shadows of his hometown bullies and joined the ranks of the Intelligencia alongside fellow "big brain" villains like the Leader, the Mad Thinker and Red Ghost! But can such a choice assemblage of evil nerds ever truly be free of lame-brain jocks? Find out as the Intelligencia comes face to face with… the Insmelligencia!

FALL OF THE HULKS: M.O.D.O.K. #1
Written by: Ryan Dunlavey
Art by: Ryan Dunlavey
Only available in Marvel Digital Comics Unlimited
Everyone's favorite pet dragon, Kitty Pryde's Lockheed, takes center stage! The little fire breather's set to torch your exclusive digital pages with high flying hijinks! This Pet Avenger's one winged wonder you won't want to mess with! Find out why!

TAILS OF THE PET AVENGERS #5
Written by: Buddy Scalera & Chris Eliopoulos
Art by: Chris Eliopoulos
Only available in Marvel Digital Comics Unlimited
Next Week* :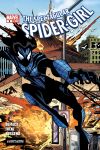 SPECTACULAR SPIDER-GIRL #9
A brand new era is born for Mayday Parker as she finally gets through to her clone, April - and just in time, as a Mob War EXPLODES - and Midtown High is caught in the crossfire!

Written by: Tom DeFalco & Ron Frenz
Art by: Sal Buscema
Only available in Marvel Digital Comics Unlimited
*All schedules are subject to change
To find a comic shop near you, call 1-888-comicbook or visit www.comicshoplocator.com
Not a subscriber to Marvel Digital Comics Unlimited yet? Join now!
Download SPIDER-WOMAN and ASTONISHING X-MEN Motion Comics now on iTunes! For more information on motion comics, visit the Marvel Motion Comics hub!"
Download episodes of "X-Men: Evolution", "Wolverine and the X-Men", "Fantastic Four: World's Greatest Heroes" and "The Super Hero Squad Show" now on iTunes!

Check out the official Marvel Shop for your favorite Marvel Heroes!