By Tim Stevens
The writer is performing this evaluation as part of the employment screening process that all members of S.W.O.R.D. must undergo with the knowledge that, ultimately, hiring is at the preference of H.A.M.M.E.R. Director Norman Osborn and therefore the writer's recommendations may not be followed.
Henry Peter Gyrich is an approximately middle aged adult male. He appears to be of average physical fitness and a complete health evaluation has revealed no current medical concerns. The subject in question is currently applying for a position with the government organization S.W.O.R.D. Prior to this, Gyrich has served the government in many capacities, including Avengers Government Liaison to the NSC and NSA, a ranking member of the Commission on Superhuman Activities, and the Secretary of the Superhuman Armed Forces. Additionally, he has also worked with the United Nations and participated in a discredited initiative called Operation: Zero Tolerance.
Throughout the majority of these assignments, Gyrich has gained a reputation-one he does not deny-for being antagonistic towards most of the people he works with, especially those with super powers. He admits to having several problems with costumed individuals, be they street-level, government-sanctioned, or cosmic in origin. With discussing these
attitudes with the writer, the subject spoke in a clipped manner and was quick to anger. He made no effort in the least to appear civil and screamed in the face of the writer more than once.
The writer was greeted with a similar set of behaviors when discussing Gyrich's history of being controlled by others, either by pure charisma or technological means. He insisted that he owed no apologies on those events, that he was hardly the only one to have fallen for these ruses or succumbed to nanite controls. After a few questions, the subject made it quite clear he had no intention of discussing the issue further.
The subject, however, is not without admirable, healthy qualities as well. He is a hard worker who appears to truly love his country. He cares deeply for his family and has, on several occasions, sacrificed personal happiness to see that they were taken care of. He has often taken steps to reconcile his past mistakes, including being the one to order the end of Operation: Zero Tolerance and making amends with Captain America (Steve Rogers) when he became the Avengers liaison to the United Nations a few years ago. Also while serving in that job, he proved to be an independent thinker who was not afraid to oppose those within the government when they were attempting to perform nefarious acts. The fact that the individual in question, Secretary of Defense Dell Rusk, turned out to be the Red Skull in disguise only further cements Gyrich's courage.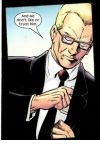 Overall, however, this writer feels the subject would be a poor fit for S.W.O.R.D. He is volatile, self-righteous, and has a documented history of distaste for individuals who are different be they mutants, super heroes, or, as in this case, aliens. To place Gyrich in this environment would likely only increase the presence of his undesirable traits and behaviors while suppressing his healthy desirable ones. It is the recommendation of this writer than the subject be placed in a position that allows the government to make use of his myriad of skills without setting him up to fail. Instead of S.W.O.R.D., perhaps the State Department or the Pentagon might make better use of him.
Regardless of the decision made, Henry Gyrich is to report for his own month follow up on February 10 with Doctors Kieron Gillen and Steven Sanders. Anyone seeking further information on Gyrich should review file S.W.O.R.D. #4.
Tim Stevens is a Dialectical Behavior Therapy Consultant and Doctoral Intern at a college counseling center currently pursuing his Psy D.
To find a comic shop near you, call 1-888-comicbook or visit www.comicshoplocator.com
Download SPIDER-WOMAN and ASTONISHING X-MEN Motion Comics now on iTunes! For more information on motion comics, visit the Marvel Motion Comics hub!
Download episodes of "X-Men: Evolution", "Wolverine and the X-Men", "Fantastic Four: World's Greatest Heroes" and "The Super Hero Squad Show" now on iTunes!
Check out the official Marvel Shop for your favorite Marvel Heroes!