Have you read our exclusive Digital Comics yet? Marvel Digital Comics Unlimited offers all-new, all-awesome stories starring your favorite heroes only available to Marvel Digital Comics Unlimited subscribers. Stay tuned to Marvel.com for news on future exclusive Digital Comics!
Today:
A brand new era is born for Mayday Parker as she finally gets through to her clone, April - just in time, as a Mob War EXPLODES - and Midtown High is caught in the crossfire!

SPECTACULAR SPIDER-GIRL #9
Written by: Tom Defalco and Ron Frenz
Art by: Sal Buscema
Only available in Marvel Digital Comics Unlimited
The color-bending villain, Spectrum is back in town and this time he's setting his sights on everyone's favorite wall-crawler! With the Spider-Girls and Teri Hillman situation still boiling, and J. Jonah Jameson's Anti-Spider Squad still on his tail, will Spidey get through another day in the private life of Peter Parker? Find out next week!
AMAZING SPIDER-MAN DIGITAL #6
Written by: Bob Gale
Art by: Patrick Olliffe
Only available in Marvel Digital Comics Unlimited
Next Week* :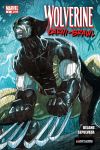 WOLVERINE: CARNI-BRAWL #1

Ahhh...Rio. The sun, the girls, the...zombies? Wolverine and Sunspot are in for a Carnivale they'll never forget when a mission to the gem of South America gets expectedly deadly...and unexpectedly undead. Find out which classic X-Villain is behind the carnage in this snikt-tastic tale by Tom Beland (FANTASTIC FOUR: ISLA DE LA MUERTE) and Miguel Sepulveda (THUNDERBOLTS)!
Written by: Tom Beland
Art by: Miguel Sepulvida
Only available in Marvel Digital Comics Unlimited
*All schedules are subject to change
To find a comic shop near you, call 1-888-comicbook or visit www.comicshoplocator.com
Not a subscriber to Marvel Digital Comics Unlimited yet? Join now!
Download SPIDER-WOMAN and ASTONISHING X-MEN Motion Comics now on iTunes! For more information on motion comics, visit the Marvel Motion Comics hub!"
Download episodes of "X-Men: Evolution", "Wolverine and the X-Men", "Fantastic Four: World's Greatest Heroes" and "The Super Hero Squad Show" now on iTunes!

Check out the official Marvel Shop for your favorite Marvel Heroes!