By Tim Stevens
William Burnside is an adult male who appears to be in excellent physical shape. He reports having served the United States for a time during the 1950's as Captain America and the scant records this writer was able to find appear to support his statements. As such, his body is chemically altered by exposure to the so-called "Super Soldier Serum." The writer is unable to assess how the serum has affected the client, beyond the obvious physical changes, as the client has refused a full battery of physical and psychological testing at this time. However, in those same records there are several references to possible side effects from the process, which differed from the one given to the original Captain America, Steve Rogers, including paranoia and violent impulses. They also reference a time that Burnside was brought back and manipulated into becoming the head of a Neo Nazi movement in America. The client has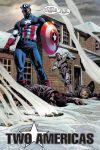 absolutely refused to discuss this at all, literally not responding when it is brought up.
It should also be noted that the client's body has been severely altered in a variety of ways to make him resemble Rogers very closely, including extensive cosmetic surgery and alterations to his vocal chords. This was done prior to his exposure to the serum and is thus not the result of any substance-induced psychosis, pointing to the possibility of pre-existing mental disorders.
Burnside repeatedly commented to this writer that he does not care for the therapeutic process and it was "not how things were done in my day." He only came in at the insistence of a local pastor whom the client had been seeking advice from. The pastor explained that what the client was experiencing was something that the church would be happy to help with, but that the client would receive greater benefits from supplementing the church's counsel with that of a trained mental health professional.
The reasons for this recommendation seem sound in light of the opinions the client has expressed. He is perplexed and, at times, enraged, by the current state of what he refers to as "his America." New York City, television, and magazines are but a few things that he claims disgust him. Additionally, newer technology like computers, cellular phones, and the like make him very uncomfortable and he often lumps them into the "disgust" category. He has expressed violent ideations towards minorities, interracial couples, and anyone he perceives to be undermining "American values." Despite the myriad of events regarding Communism in the world and its great reduction of influence since the 50's, Burnside remains obsessed with "the Reds." He became upset when the writer discounted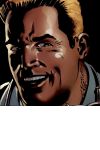 the threat of Communism in general, and Russia in particular-given that it is no longer Communist-and stormed out of one session because of this. Since then, the writer has been careful to dispute such concerns in a less flip manner.
On the other hand, the client is also capable of great empathy and does seem to truly desire a role where he can help others. He speaks often of donning his Captain America uniform again and fighting "all threats, foreign and domestic." He mourns his former partner, a Jack Monroe, saying that he only wishes he could have been a better mentor to his charge; that somehow that might have saved Monroe from his sad fate.
After five sessions, Burnside has made the choice to cease our therapeutic relationship because he will be leaving the area. He reports that he has not been home to Idaho since long before he became Captain America and expects that the America he seeks still exists out there. Despite repeated warnings by the writer that the whole country has changed and encouragements to stay and work on his acceptance of this fact, the client is dedicated to this choice in an unwavering manner. He reports that it is his belief that he can begin his life anew there and inspire and help the country just as he always wanted.
While this writer deeply disagrees with this choice, there is nothing to be done to force the client to stay in therapy. However, the writer has urged Burnside to continue with it when he reaches Idaho. The writer has therefore called ahead and made William Burnside an appointment with Doctors Ed Brubaker and Luke Ross on February 17. The writer is also sending out file CAPTAIN AMERICA #603 to provide supplemental information.
Tim Stevens is a Dialectical Behavior Therapy Consultant and Doctoral Intern at a college counseling center currently pursuing his Psy D. who has experience helping others adjust to new environments.
To find a comic shop near you, call 1-888-comicbook or visit www.comicshoplocator.com
Not a subscriber to Marvel Digital Comics Unlimited yet? Join now!
Download SPIDER-WOMAN and ASTONISHING X-MEN Motion Comics now on iTunes! For more information on motion comics, visit the Marvel Motion Comics hub!
Download episodes of "X-Men: Evolution", "Wolverine and the X-Men", "Fantastic Four: World's Greatest Heroes" and "The Super Hero Squad Show" now on iTunes!

Check out the official Marvel Shop for your favorite Marvel Heroes!