By Harry Go
Fresh off an impressive showing in Season 9 of "Dancing With the Stars," and now vying for Olympic gold at the 2010 Winter Games, Louie Vito is a spinning, jumping and trick stomping force to be reckoned with. Exploding onto the scene in 2005 at the age of 17, Vito represents the new wave of riders pushing snowboarding progression to the next level. With a career boasting first place wins at the Australian Open, Jeep King of the Mountain, Killington Grand Prix and U.S. Snowboarding Grand Prix, Louie Vito is just warming up. Now a part of Team U.S.A. for the 2010 Vancouver Olympics and a favorite to make the podium, Louie is poised to rule the world. Plus, he's just an all-around chill dude.
We caught up with Louie to discuss Hulk Hands, "Dancing With the Stars," ripping it up at the 2010 Winter Olympics and much more!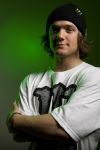 Photo: Hamilton

Marvel.com: We know you've been training really hard for the 2010 Winter Olympics. What would winning the gold for the U.S., mean for you?

Louie Vito: It's always been a dream pretty much since snowboarding has been in the Olympics. Especially after the 2002 one where we [the U.S.] swept and I got to be there. That really set my hunger to really make it. And to be able to make it in the team with the caliber of the riding now and how all of the U.S. has been riding is just a feat in itself. Now all of the hard stuff is done and you can just kind of enjoy yourself and go for it.

Marvel.com: Are you a Marvel fan?
Louie Vito: Yeah, I used to be into comics and all that stuff when I was little. Spider-Man and the Incredible Hulk were the ones I was into...especially around Halloween time.

Marvel.com: So did you dress up as super heroes a lot as a kid?

Louie Vito: Yeah I was Batman a few times. I was Spider-Man. I was really jealous the past couple of years when those Hulk Hands came out. I said, "Man, I wish they had those when I was a kid." X-Men especially. Wolverine was my dude. I loved pretending to have those claws. Those were the illest things ever. I wish I could have those but obviously they don't really exist.

Marvel.com: Did being exposed to super heroes influence you as an athlete?

Louie Vito: When I was little I had high energy and was always into sports like gymnastics. I loved doing flips and stuff like that. So i would jump on a trampoline and use my imagination to "fly" even if it was just for half a second. It was cool and I was able to take my imagination that much further. Like I said, I had a lot of energy and I would flip off of anything so that just added to the whole thing.

Marvel.com: What Marvel character do you most relate to and why?

Louie Vito: That's a tough one. It's hard to say because I can relate to a lot of super heroes who are just average everyday people and then transform into their super hero character. I can relate to that, where I'm a normal guy just hanging out and then when it's time to go snowboard I have to change modes and really get into it and focus on that. I guess you can say that I use my powers or my talent the best way I can use it.

Marvel.com: Let's talk about "Dancing With The Stars" for a second. Do you think Donny Osmond deserved to win it?

Louie Vito: Well, you know, it's really hard because you had Mya who is a firecracker and is really good at dancing. Then you had Kelly [Osbourne] who came from the ground up with no real dance experience and really evolved into what she was in the finals. Then you had Donny who always brought the high energy. Watching him was like watching a Vegas show. So each of those three had their own styles and flavor in each dance and the way they performed. I guess it really came down to who the judges liked more because I knew they all had pretty good fan bases and they all got high scores, but it was all about who really capped off with the judges scores.
 
Marvel.com: Can you give a walkthrough of a regular day of snowboard training for you?

Louie Vito: What's nice about snowboarding is that you're not going to a gym like in gymnastics and you're just training and training and training. It's nice. Yeah, you may have to wake up and get up there around a certain time. Normally, we meet around 8-8:30 you know cause the lifts open up at 9:00. You just kind of meet up with your friends. I've been riding with Shaun [White] quite a bit. I set some goals for myself before getting out there each day whether it's working on one trick, linking two tricks together or even doing full runs. You kind of get out there and ride with your friends and have fun and kind of push each other. Sometimes one of your friends might just be on-it that day and going really big and landing everything. That fires you up a little bit and you push yourself that much more. I normally ride just for three or three and a half hours depending on how my day is going. You don't want to push it too much because you do it day in and day out. You're just trying to get what you need to get done and get back and get ready for the next day and set some new goals. Especially since you only have a week and half to two weeks to get your feet under you and then really have your contest run ready and ready to throw down when you need to. So I'm on more of a mental schedule for myself like, "I want to do this trick by this day."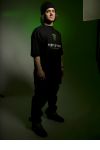 Photo: Hamilton

Marvel.com: You mentioned Shaun White. We know only you and Shaun are really stomping Double Corks and consistently throwing it in your runs. Is there a friendly rivalry going on between you two, kind of like a Spider-Man/Human Torch thing? Or is it more of an arch-enemy type of thing like Wolverine and Sabretooth?

Louie Vito: It's kinda like the friendly rivalry. I think of Shaun as the best halfpipe rider right now especially when it comes to consistency. He can land his run. It's kind of nice to see that. I feed off of him. I do have the potential to beat him. It just depends if I can put it down when it counts because you can always depend on Shaun to bring his A-game to every contest. Obviously we're friends, but when we're in the same competition I know he wants to win just as bad as I do, whether it's like, "I'm going to whup you right now," or not. Deep down I know he wants to beat me and I want to beat him. It's like that. It's a friendly rivalry but when it comes down to business, we're both gonna do everything in our power to land the best run possible.

Marvel.com: If you could have any super power, what would it be?

Louie Vito: It would be cool to have a super power to do whatever you wanted to do. It's kind of a cop-out. It's like if I had three wishes then my first wish would be to have unlimited wishes. That's the best wish you can get. That's a tough one though. I think in snowboarding it would be like to have crazy cat-like senses and reflexes because of the fact that I'm doing Double Corks now. The less you fall the healthier you'll stay and you want to stay as healthy as possible. I would go with either that one or invincibility because, like I said, if you could never get hurt then the possibility of what you could learn is limitless.

Marvel.com: Are you more nervous getting on a dance floor in front of 30 million people or dropping into a halfpipe before a final run?

Louie Vito:  Definitely dancing because I've never danced before. Normally, if you go out you have a few adult beverages and there are people dancing around you. But in the show I was doing a dance that I only had four days to learn. I had to do something I had no confidence and no self-esteem in. And then performing in front of a live audience, being judged on it and knowing that there are 30 million people watching at home. That's hard. With snowboarding I'm doing something I'm comfortable with, wearing stuff I'm comfortable in, I know what I'm doing and I know I'm good at it. That's what I tell myself whenever I drop in and out [of the halfpipe], "You've already dealt with pressure 100 times harder than this. This is something you know how to do so relax." So I say dancing.
Want to learn more about Louie? Check out his website and follow him on Twitter!
And don't forget to show Louie and Team U.S.A. your support in the Vancouver 2010 Winter Olympics!
Download SPIDER-WOMAN and ASTONISHING X-MEN Motion Comics now on iTunes! For more information on motion comics, visit the Marvel Motion Comics hub!"
Download episodes of "X-Men: Evolution", "Wolverine and the X-Men", "Fantastic Four: World's Greatest Heroes" and "The Super Hero Squad Show" now on iTunes!

Check out the official Marvel Shop for your favorite Marvel Heroes!