Photos Courtesy Getty/New Jersey Devils
By Arune Singh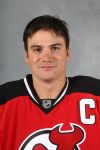 Photo: Getty/New Jersey Devils
Might not seem it on first notice, but the US Olympic hockey team and Marvel's Avengers have a lot in common.
Both represent the best of the best; each features seemingly "Invincible" members (Iron Man and Buffalo Sabres goalie Ryan Miller); snipers with aim beyond reproach (Hawkeye and Chicago Blackhawks forward Patrick Kane); a thunderous teammate (Thor and Toronto Maple Leafs defenseman Mike Komisarek); and inspiring leaders named Captain America.

While Marvel's Steve Rogers trained to become the ultimate warrior overseas, Jamie Langenbrunner honed his craft all over the United States, earning a place on the 1998 US Olympic Team and Stanley Cup victories with both the Dallas Stars of 1998-99 (a franchise first) and the New Jersey Devils of 2002-2003 (his current team).
Marvel.com caught up with Langenbrunner before he boarded his plane for Vancouver where he's captaining the 2010 United States Olympic hockey team—starting with today's opener against Switzerland.


"It's a great honor to be named to the team and pretty amazing to be named team captain," Langenbrunner told Marvel.com. "It's probably the greatest individual accomplishment I've earned so far and I understand that there's a lot that goes along with the honor. I'm just excited to be in this situation. We're going there to win a gold medal—that's our focus and we'll give it all we got! We're thankful for the opportunity to play and are proud to represent the United States."
As eagle eyed sports fans know, the announcement of Langenbrunner's selection for the US Olympic team wasn't without a small hiccup. The team's roster was unveiled at Fenway Park during the NHL's prestigious "Winter Classic" event on January 1, but Langenbrunner's name was incorrectly spelled on the back of the jersey bearing his name and number.
"I actually didn't see the Winter Classic when the lineup was revealed because we were at practice," he said. "I was in Minnesota and met up with my brothers after practice—they let me know right away. The PR guys apologized to me and it's all good now. My name's been misspelled on hockey sticks—misspelled the same way they did at the Winter Classic—but with thirteen letters in your name you know it's gonna happen once in a while."
Speaking last Thursday, with the Olympics Opening Ceremonies less than 24 hours away, Langenbrunner said he's focused on both the NHL and representing his country.
"It's been tough staying focused on the job I get paid to do with my team [New Jersey Devils] and the honor of going to the Olympics. I'm also really excited to see my friends and family who'll be there too. So it's a bit difficult putting that excitement aside to focus on our games before the break, but who wouldn't get excited turning on the TV and seeing the guys on SportsCenter talking about the Olympics?"
Langenbrunner also represented the United States in the 1998 Winter Olympics.
"I went to the first one as a replacement at the last minute for an injured guy and it was kinda just a whirlwind where I don't think I realized where I was going or what I was doing. This time around I had some time to prepare and get into the excitement around the event, which made it a lot better for me. You know you're going and you can bring your family along, which makes all the difference. This time is different—I'm captain now and, along with the older guys, I've been asked to lead. We've got a lot of experience to share with the younger guys. Last time I was a 22-year-old kid who didn't know what was going on."
Though everyone's getting in tune with the "Captain America" nickname now, Langenbrunner says it was fellow Devil and Team USA teammate Zach Parise who first bestowed it upon him.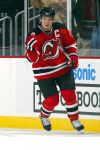 Photo: Getty/New Jersey Devils
"Zach was calling me 'Captain America' a few days before the Olympic team was announced—I don't know if he had some special knowledge or was just playing with me. One day I came into the locker room and there was a Captain America bobblehead from Zach for me. I still have it in my changing room stall [laughs]. In the last week, my seven-year-old's hockey team signed a Captain America shirt for me and my younger brother, who's been a big comic fan his whole life, sent me another Captain America shirt. Given all the gifts I'm getting, your Captain America gear sales have probably gone up [laughs]!"
Though his brother may be the bigger comic fan, Langenbrunner's up to date on all his Marvel movies. "I enjoyed the 'Iron Man' movie a lot but my favorite has to be 'Spider-Man'—I enjoyed all those films. He's a great character and I like his ability to almost fly—I know he can't, but it's close enough. I always thought that flying would be a neat power—the freedom would be amazing but the way Spider-Man throws himself around and can use his body is cool."
And asked if he'd like Spidey as a teammate, Langenbrunner laughs, "Yeah, of course. He'd be pretty elusive out there—the other guys couldn't stop him!"
Speaking of new teammates, the New Jersey Devils just made arguably the biggest trade of the NHL season by acquiring superstar Ilya Kovalchuk. "It's great—we're adding of the most dynamic offensive players in the league. We've been struggling a bit lately but now we've got a whole new dynamic the team's never seen before. We've increased our depth in scoring and we have some guys that are dangerous players one on one. We're totally focused on winning the Cup and adding him has excited the group. It also shows us that management believes we can go all the way."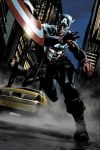 The Stanley Cup certainly does seem attainable for the Devils with Martin Brodeur in net. Asked about arguably the best goaltender of all time and Team Canada's starting netminder yet again, Langenbrunner said, "I've been fortunate to play with him for eight years and he just seems to get better each year. He's a competitor and he's always pushing himself to be better. He loves to play and when you love something you're always going to be more successful."
Langenbrunner's been successful this year too, captaining the Devils to one of the top spots in the NHL's Eastern Conference, but he's reticent to name a favorite moment. "Hopefully it's yet to come" he laughs, alluding to another Stanley Cup championship. "Individually, it's gotta be when I scored my first NHL hat trick in Minnesota [on January 3, 2010]. That was pretty enjoyable. But from a team perspective I don't think we've had our best moment yet. It's been a solid season but I think we have our eyes on something bigger."
If that focus ever shifted from hockey to super heroics, Langenbrunner's quick to describe the rather "invincible" hero he'd want to be. "Being Iron Man seems like a pretty good gig. He seems to have both sides of his life going pretty well. He's got it all going on, doesn't have  problems about money, his job or having fun. Sounds pretty great to me!"
Watch Jamie Langenbrunner and Team USA pursue hockey gold at the XXI Winter Olympics in Vancouver beginning today at 3 PM ET (check local listings) when the US Men's Hockey Team takes on Switzerland!
To find a comic shop near you, call 1-888-comicbook or visit www.comicshoplocator.com
Not a subscriber to Marvel Digital Comics Unlimited yet? Join now!
Download SPIDER-WOMAN Motion Comics
 now on iTunes!
Download episodes of "X-Men: Evolution", "Wolverine and the X-Men", "Fantastic Four: World's Greatest Heroes" and "The Super Hero Squad Show" now on iTunes!

Check out the official Marvel Shop for your favorite Marvel Heroes!