By Tim Stevens
Cain Marko is an adult male who appears to be of above average height and physical fitness. The client is best known as the Juggernaut and tends to prefer to be referred to as such. Marko appeared to be healthy and able to follow through on his ADLs, although it was difficult to know this for sure as he insisted on wearing a large dome shaped element because, as he put it: "I can't have you or anyone else trying to read my mind." Attempts to discern exactly what he meant by this were deflected by the client, but it would seem a safe assumption that this is not evidence of paranoid schizophrenia or some sort of delusion, but rather a product of being the step brother of mutant rights activist and powerful telepath, Charles Xavier. However, the writer will pay close attention for any further signs of similarly unusual beliefs from the client.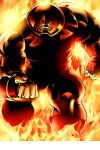 The client has a complicated past that has included memberships on prominent groups representing opposite positions on the mutant rights movement. Overall, however, Marko has largely used his power to engage in criminal activities and to harass his step brother. Questions relating to the periods where the client has seemingly rejected his criminal ways and embraced his step brother's mission of normalized mutant-human relations are often dodged. In particular, he absolutely refuses to discuss a young man named Sammy. Respecting the client's limits is important, but the writer will continue to test to see if Marko is ready to discuss this obviously important relationship.
Besides this, the writer is also attempting to discern what recently befell Marko and how it has affected him psychologically. The client was referred to the therapist from a local hospital following a devastating physical attack that left him severely beaten and unconscious. The doctors at the hospital insisted that the client was showing signs of Acute Stress Disorder, but Marko denies this. Nevertheless, when asked why he would voluntarily participate in something he does not feel he needs, Marko becomes evasive and sometimes angry, breaking the therapist's desk at one point. And yet, he has continued to show up at every appointment.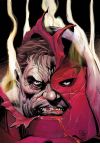 For now the writer has been supportive and validating in the hope of building the relationship. Additionally, much time has been spent on emotion regulation, with a heavy emphasis on the idea that all feelings are okay-including sadness, fear, and vulnerability-and can be expressed in ways that are appropriate and will be helpful to the client. Soon though, a shift in this approach may be necessary. If the client shows no sign of revealing his pain, the therapy may benefit from a more challenging tone. However, given the client's history of physical trauma in his childhood, it is important to tread carefully as to not retraumatize him.
Cain Marko's next appointment is set for March 31with Doctors Roger Stern and Lee Weeks. Please review file AMAZING SPIDER-MAN #627 for further information. Data on subsequent sessions scheduled for April 14 and April 21 can be found in files AMAZING SPIDER-MAN #628 and #629, respectively.
Psy D. Candidate Tim Stevens is a Dialectical Behavior Therapy Consultant and Practicum Trainee at a college counseling center who has experience working with individuals with Acute Stress Disorder.
To find a comic shop near you, call 1-888-comicbook or visit www.comicshoplocator.com

Not a subscriber to Marvel Digital Comics Unlimited yet? Join now!  
Download SPIDER-WOMAN and ASTONISHING X-MEN Motion Comics now on iTunes! For more information on motion comics, visit the Marvel Motion Comics hub!
Download episodes of "X-Men: Evolution", "Wolverine and the X-Men", "Fantastic Four: World's Greatest Heroes" and "The Super Hero Squad Show" now on iTunes!

Check out the official Marvel Shop for your favorite Marvel Heroes!