By Tim Stevens
Sam Wilson is an adult male who presents as being in above-average physical shape. Currently, the client spends most of his time as the costumed vigilante known as the Falcon. However, he does tend to balance his crime fighting career with occupations designed to aid urban denizens, including time as a social worker and an urban planner.
Previously, Wilson sought therapy to work through emotions raised by the death of his nephew, Jim Wilson, from AIDS-related complications. This also brought out unresolved feelings related to the violent deaths of his parents years earlier. The client has had a small amount of short follow-up visits over the year, typically to confront issues relating to his former life of crime and attempts to manipulate him into returning to it. The objectives of these visits were usually to assess mental status and ensure that there was no psychological damage or signs of dissociative identity disorder. To date, there has been no evidence of either.
Currently, the client has sought out therapy with the writer off the recommendation of a friend due to recent, possibly traumatic events involving the kidnapping and physical assault of the client. Wilson, at this time, does not show signs of adverse reactions to the physical abuse or imprisonment. However, he expressed a desire to be on the safe side.
Of particular concern for the writer is the nature of these attacks as they went beyond the typical super hero-versus-super villain variety that the client would typically deal with. For one, he witnessed someone, as he put it, "perverting" the uniform of his mentor and friend, Steve Rogers aka Captain America. To make matters worse on this, the individual in question has been surgically altered to the point that he looks like Rogers. Coming so closely on the heels of Rogers' seeming resurrection, this may, in time, prove to be a very traumatic encounter.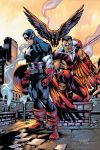 Additionally, the organization that captured him is, amongst many things, prone to jingoistic and racially-charged rhetoric. While Wilson does report feeling comfortable with his racial identity and presents as such, this sort of psychological attack can still prove to be quite damaging. To not, at least in the short term, discuss these issues with the client would be a culturally incompetent move for this writer. This is especially the case given that the writer is a white male and that there is a strong possibility that Wilson could transfer some of his lingering feelings of anger, fear, etc towards his kidnappers on to the therapist, presenting both possible opportunities and problems, depending on how this transference is handled.
At this time, however, the therapist feels confident in stating that the client seems to be adapting well to recent events and is unlikely to need therapy in the long term, although both writer and Wilson agree that at least another session to check in is a good idea.
Sam Wilson will meet with Doctors Ed Brubaker and Luke Ross on April 21 for his next session. Please review file CAPTAIN AMERICA #605 on this day for further details.
Psy D. Candidate Tim Stevens is a Dialectical Behavior Therapy Consultant and Practicum Trainee at a college counseling center who has experience working with individuals who have lived through physically and psychologically traumatic events.
To find a comic shop near you, call 1-888-comicbook or visit www.comicshoplocator.com
Not a subscriber to Marvel Digital Comics Unlimited yet? Join now!
Download SPIDER-WOMAN Motion Comics
 now on iTunes!
Download episodes of "X-Men: Evolution", "Wolverine and the X-Men", "Fantastic Four: World's Greatest Heroes" and "The Super Hero Squad Show" now on iTunes!

Check out the official Marvel Shop for your favorite Marvel Heroes!