We're celebrating the May 7 (April 28 internationally) release of "Iron Man 2" with Iron Man Month 2010! Get ready for a monthlong mega mix of all things Shellhead right here on Marvel.com!
By Tim Stevens
Tony Stark is an adult male who appears to be of above average physical health. He generally presents as friendly, intelligent, and relaxed. It is clear from his speaking style and manner that he grew up in an upper class setting and has received a top notch education. As noted, the client is typically loose and inviting in conversation, but can quickly close off to the writer when a subject is raised that the client does not feel comfortable discussing. This has been the case throughout the therapeutic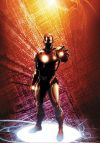 relationship although there are signs of the client becoming increasingly more comfortable with the writer and therefore seceding some of this need for control.
To review, Stark has had an Axis I diagnosis of alcohol dependence for some time. The disorder is currently in remission and the client remains committed to Alcoholics Anonymous although he has found it difficult to attend meetings as of late, something he plans to resolve quickly. This writer also remains dedicated to the opinion that the client has the Axis I diagnosis of Major Depressive Disorder. Additionally, Stark carries Axis III diagnoses of cardiac and neurological difficulties that have gotten particularly problematic as of late and which will be discussed later in this note.
Following the events of the Skrull invasion, Stark has been on the run as a fugitive from the law, hunted by government organizations, particularly the Norman Osborn-headed H.A.M.M.E.R. Although, officially, the client has not yet been declared free of any and all charges given recent events, he is no longer actively being sought. It is the expectation of the client that soon he will be able to "return" to his old life. The client also remains active in his armored alter ego, Iron Man, although he has had to limit that activity due to health difficulties and his fugitive status.
After S.H.I.E.L.D. was shut down and the client declared a wanted criminal, Stark attempted-in the opinion of the writer-a dangerous procedure meant to wipe his brain clean of various secrets to prevent Osborn from being able to access them. The client, with the help of several friends, evaded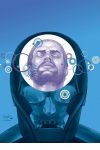 capture as his mind was "rebooted." This resulted in loss of intellect and physical functionality, and, eventually, a coma. Stark has further explained that he believes he experienced cardiac arrest for a period of time during this coma until his allies were able to successfully complete his instructions which allowed his intellect and physical capabilities to return to full strength with those problematic secrets purged.
As an unintended consequence of this maneuver, several months of memories not necessarily intended to erasure were also eliminated. Thus, the client returned to consciousness with no memory of the aforementioned Secret Invasion, the so-called Civil War between costumed crime fighters, his time as a fugitive, and the death of his friend, Steve Rogers, the original Captain America. The fact that Rogers has seemingly returned to life did little to lessen the shock of these repeat revelations.
Stark participated in a variety of psychological, physical, and intellectual assessments to discern the full extent of his "reboot." Physically and intellectually, the procedure appears a success. He is able to engage in cardio and resistant training activities and pilot his armor with seemingly no ill effects. Additionally, his capacity for languages, his engineering skill, and other intelligence markers have returned without signs of disability.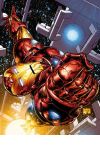 Psychologically, however, Stark is struggling. Faced with mistakes he recognizes as his own, but lacking the memories to explain why he did what he did, he finds himself confused and struggling with feelings of anger, self-recrimination, shame, and guilt. He now "knows" all that occurred, but is fixated on trying to discern why these things happened, why he "allowed it all to go so wrong." Additionally, in the process of being "rebooted," the client confesses he behaved in a way that left some of his closest friends feeling used and that that has left him feeling isolated.
The client has partially met personal goal #1, maintaining sobriety. He has pledged that he will get back to meetings when he knows he can safely do so without fear of going to jail. The writer urged him to find a way to do this as soon as possible.
The client finds himself at odds with personal goal #2, being open and honest in communication. He feels he is now but that no one trusts this to be true and, again, he has difficulty explaining why he was so vague and secretive previously without the memories of those events.
Going forward, as noted above, it is recommended that the client better utilize opportunities for group therapy and continue to attend bi-weekly individual therapy sessions.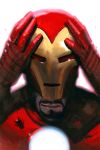 For further details on Tony Stark, please review the files INVINCIBLE IRON MAN #25, available on April 28, concerning his upcoming session with Doctors Matt Fraction and Salvador Larroca, and IRON MAN LEGACY #2, available on May 5, revolving around his session with Doctors Fred Van Lente and Steve Kurth. A follow-up to the highly successful documentary film "Iron Man" is also scheduled to be released in theaters on May 7 under the name "Iron Man 2."
Tim Stevens is a Mental Health Supervisor currently pursuing his Psy D who has experience in dealing with individuals with co-occurring disorders and recent traumatic events.
Robert Downey Jr. reprises his role as billionaire industrialist Tony Stark, aka the super hero Iron Man in this sequel to the 2008 blockbuster. RDJ, Paltrow, Cheadle and Rockwell are joined by Samuel L. Jackson as Nick Fury, Scarlett Johansson as Black Widow and Mickey Rourke as Whiplash. Jon Favreau once again takes up the directorial reins for Marvel's armored avenger.

"Iron Man 2" is one of a continuing slate of films being produced by Marvel Studios based on the Marvel characters, including "Thor" on May 6, 2011, "The First Avenger: Captain America" on July 22, 2011 and "The Avengers" on May 4, 2012.

Stay tuned to Marvel.com for the official word on all things to do with Marvel movies!
Visit the official "Iron Man 2" movie site now and the Marvel.com "Iron Man 2" movie hub! Also, be sure to check out StarkExpo2010.com, the official site of Stark Expo!
Find out when the movie opens in YOUR country with the official "Iron Man 2" international release schedule!

The official Marvel Shop features all things Iron Man!
Read Iron Man Digital Comics right now! Not a subscriber to Marvel Digital Comics Unlimited yet? Join now!