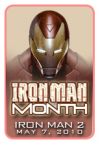 We're celebrating the May 7 (April 28 internationally) release of "Iron Man 2" with Iron Man Month 2010! Get ready for a monthlong mega mix of all things Shellhead right here on Marvel.com!
Every week, a secret cabal of Marvel staffers gathers to discuss the best of the best when it comes to the House of Ideas.
Few heroes in the Marvel Universe can match the versatility of Tony Stark, aka Iron Man. He's a genius, he employs an impressive array of firepower, he's got strength, he's got speed, he's got moves-he's got it all.
So to pose a challenge to the Golden Avenger, you know anybody steeping to Shellhead must possess some serious credentials as well.
Unfortunately for Tony-and fortunately for those of us who enjoy his adventures-several individuals have stepped up to the plate through the years and given him a run for his armor.
With Stark set to tangle with Whiplash and Justin Hammer in "Iron Man 2" as well as an array of fresh and familiar foes in the pages of INVINCIBLE IRON MAN and IRON MAN: LEGACY as the summer heats up, the Secret Cabal gives their own read on the Armored Avenger's most awesome adversaries.
For each character you get the quick rundown as well as a special spotlight comic courtesy of Marvel Digital Comics Unlimited.
As always, these picks reflect the personal choices of the Secret Cabal, not the official opinion of Marvel or Marvel.com, and can be considered subjective at best. Enjoy!
10. THE UNICORN
First Appearance: TALES OF SUSPENSE #56 (1964)
Learn More About Him...here
Why He Makes the List: Another in a long line of Soviet agents sent against Iron Man, Milos Masaryk found himself too easily misled by ambitious men such as The Red Ghost and The Mandarin, and never amounted to more than a pawn in the schemes of more enterprising individuals. The Unicorn ultimately suffered a slow and agonizing fall from grace, enduring possession by other villains, insanity fueled by his powers, and ultimately death. Still, while he never made much headway as more than a nuisance against Iron Man, we admire Unicorn's gumption and great costume.
Spotlight Comic: IRON MAN #4 (1968)-The Unicorn holds the United States Congress hostage and it's up to Iron Man to stop him!
9. FIN FANG FOOM
First Appearance: STRANGE TALES #89 (1961)
Learn More About Him...here
Why He Makes the List: Though they clashed only, Iron Man's battle with the ancient alien dragon Fin Fang Foom remains among the most trying and hard-fought of his life. Immense in size and impossibly powerful, Foom nearly laid waste to all of China before barely falling before the unholy alliance of two Iron Men and The Mandarin. No doubt Tony Stark still wakes in the occasional cold sweat in fear of "He Whose Limbs Shatter Mountains and Whose Back Scrapes the Sun" returning.
Spotlight Comic: IRON MAN #271-Fin Fang Foom is unleashed on the modern world, much to Iron Man's dismay!
8. THE GHOST
First Appearance: IRON MAN #219 (1987)
Learn More About Him...here
Why He Makes the List: In his very first appearance, the corporate raider known only as The Ghost made an immediate splash by killing longtime Iron Man nemesis Spymaster when he dared interfere with his plans. While Ghost has since made many more appearances, most details about his background and true identity remain unknown aside from his hatred of big business and unfounded claim that he himself was once an executive, both of which make him an appropriate and dangerous opponent for Tony Stark. The Ghost's recent evolution into a saboteur for hire employed by Norman Osborn with a creepier new look and demeanor has only added to his mystique.
Spotlight Comic: IRON MAN: THE INEVITABLE #2-The Ghost links up with the new Spymaster to go after Iron Man!
7. EZEKIEL STANE
First Appearance: THE ORDER #8 (2008)
Why He Makes the List: The son of Obadiah Stane, young Ezekiel bares more resemblance to a twisted Tony Stark than his Machiavellian father. A technological prodigy able to concoct incredible devices from virtually any resources, Ezekiel proved most dangerous to Iron Man as a result of his outside-the-box lifestyle and lack of loyalty to any particular credo, seemingly sowing chaos for chaos' sake. Though Iron Man was able to thwart the younger Stane in their first meeting, he failed to do so before considerable property damage and loss of life thanks to the budding global terrorist.
Spotlight Comic: INVINCIBLE IRON MAN #1-Ezekiel Stan steps up his campaign of terror against Tony Stark!
6. THE CRIMSON DYNAMO
First Appearance: TALES OF SUSPENSE #46 (1963)
Learn More About Him...here
Why He Makes the List: Over a dozen men-and at least one woman-have worn the Crimson Dynamo armor, some serving as national heroes of Russia, others carrying out seedier objectives sponsored by the one-time Soviet Union, and even a few out for their own interests, but all have carried on a sometimes friendly, sometimes not-so-much rivalry with Iron Man. The original Dynamo, Anton Vanko, initially opposed Shellhead, but then briefly became an ally to Tony Stark before meeting a tragic end at his successor's hands. One constant remain when it comes to the Crimson Dynamo: there will always be one, and, inevitably, they'll always cause trouble for Iron Man.
Spotlight Comic: TALES OF SUSPENSE #52-Iron Man gets caught between two Crimson Dynamos with the debuting Black Widow waiting in the wings!
5. JUSTIN HAMMER
First Appearance: IRON MAN #120 (1979)
Learn More About Him...here
Why He Makes the List: While Tony Stark has had many business rivals in his career, none have opposed him with the persistence and lack of ethics that Justin Hammer brought to the table. Hammer's first impact on Iron Man came when he took remote control of his armor and caused the Avenger to assassinate a foreign delegate. Later Hammer campaigns would be marked by theft of Stark patents for nefarious means as well as funding a virtual army of super villains including Whiplash, Blizzard, Force, The Beetle, Boomerang, The Scorpion and many others. Hammer drove Tony Stark to do things on the very edge of his own moral compass just to keep his head above water.
Spotlight Comic: IRON MAN #123-Justin Hammer sends Whiplash, Blizzard and The Melter after Iron Man!
4. MADAME MASQUE
First Appearance: TALES OF SUSPENSE #98 (1968)
Why She Makes the List: Though raised as Whitney Frost, the woman who would become Madame Masque was born the daughter of ruthless crime lord Count Nefaria, discovering her true parentage late in life. Vacillating between attempts to succeed her father in running the Maggia and trying to live a normal life, Whitney found herself constantly betrayed by the men in her life, from her fiancée, politician Roger Vane-who left her upon learning the truth about her past-to Tony Stark himself, who romanced his one-time foe but ultimately opposed her. An airplane accident damaged Whitney's face, forcing her to don her trademark mask and rendering her psyche even more damaged, which combined with their tangled past makes her one of Iron Man's most complex enemies.
Spotlight Comic: INVINCIBLE IRON MAN #15-A fugitive Tony Stark finds himself pursued by his former lover, Madame Masque!
3. TITANIUM MAN
First Appearance: TALES OF SUSPENSE #69 (1965)
Learn More About Him...here
Why He Makes the List: Boris Bullski was motivated by an enormous sense of national pride during his years as Titanium Man, a tremendous strength that also proved his ultimate downfall. Seeking to give the Soviet Union a worthy counterpart to the United States' Iron Man, Bullski piloted his bulkier armor against his American foe to countless defeats, but refused to surrender, unwilling to let his people down. Even after the fall of the U.S.S.R., Titanium Man continued to embrace an outdated doctrine and employed any means necessary in the hope of finally attaining triumph over Iron Man and regaining his pride, only to lose his life in the process.
Spotlight Comic: TALES OF SUSPENSE #93-Return of Titanium Man!
2. OBADIAH STANE
First Appearance: IRON MAN #163 (1982)
Learn More About Him...here
Why He Makes the List: While many have challenged both Iron Man and Tony Stark, none have so utterly defeated and deconstructed the man and hero alike as Obadiah Stane did. A cold and calculating businessman obsessed with manipulating men like chess pieces, Stane systematically obliterated Stark's personal life and sobriety by attacking his friends and arranging for his seduction, then utilized these distraction to swoop in and purchase his rival's company out from under him. Stane's sole misstep in an otherwise perfectly played game came when he overreached and constructed his own battle suit as Iron Monger, opening himself up to physical defeat, though he would deprive Stark of any satisfying revenge with his final act.
Spotlight Comic: IRON MAN #200-The final showdown between Iron Man and Iron Monger-with only one walking away!
1. THE MANDARIN
First Appearance: TALES OF SUSPENSE #50 (1964)
Learn More About Him...here
Why He Makes the List: Of all Iron Man's varied foes, none have proven as enduring as The Mandarin, in large part because he is such an antithesis to all that Tony Stark and his armored alter ego stand for. Whereas Stark strives for progress and moving forward into a future where technology benefits all, The Mandarin embraces the ways of the ancient past in hopes of stunting mankind in an empire ruled by him alone. Iron Man stands as a beacon of everything that terrified The Mandarin about a world in danger of forgetting he and his ways, while the would-be Genghis Khan will always be a stumbling block to Stark's vision of a tomorrow where peace reigns; neither can achieve their respective dreams so longer as the other remains blocking the way.
Spotlight Comic: IRON MAN: DIRECTOR OF S.H.I.E.L.D. #26-A beleaguered Tony Stark must deal with a juiced up and revitalized Mandarin!
Robert Downey Jr. reprises his role as billionaire industrialist Tony Stark, aka the super hero Iron Man in this sequel to the 2008 blockbuster. RDJ, Paltrow, Cheadle and Rockwell are joined by Samuel L. Jackson as Nick Fury, Scarlett Johansson as Black Widow and Mickey Rourke as Whiplash. Jon Favreau once again takes up the directorial reins for Marvel's armored avenger.

"Iron Man 2" is one of a continuing slate of films being produced by Marvel Studios based on the Marvel characters, including "Thor" on May 6, 2011, "The First Avenger: Captain America" on July 22, 2011 and "Marvel Studios' The Avengers" on May 4, 2012.

Stay tuned to Marvel.com for the official word on all things to do with Marvel movies!
Visit the official "Iron Man 2" movie site now and the Marvel.com "Iron Man 2" movie hub! Also, be sure to check out StarkExpo2010.com, the official site of Stark Expo!
Find out when the movie opens in YOUR country with the official "Iron Man 2" international release schedule!
The official Marvel Shop features all things Iron Man!
Read Iron Man Digital Comics right now! Not a subscriber to Marvel Digital Comics Unlimited yet? Join now!