By Tim Stevens
Coming this July, writer Christos Gage and artist Mario Alberti team up with Spider-Man once again, bringing some new friends along for the ride in SPIDER-MAN/FANTASTIC FOUR.
After the success of last year's X-MEN/SPIDER-MAN limited series, bringing back Gage and Alberti for another go-round with Spidey came as an obvious choice; only identifying a Marvel super team capable of bringing rich drama to their interactions with the Wallcrawler remained. However, Gage quickly leapt at the chance to flesh out the storied shared history between Spidey and the FF.
"Everyone thinks of Spidey's friendly rivalry with the Human Torch, and Dan Slott did a great job spotlighting that in his SPIDER-MAN/HUMAN TORCH [series], but in writing this I realized we haven't seen a lot of looks at Spidey's relationships with Sue or Reed," the writer explains.
"Since this series is conveniently four issues long, each issue allows us to take one member of the FF and examine how they relate to [Spider-Man]. It's been cool to look at familiar characters through slightly different perspectives."
As he did with X-MEN/SPIDER-MAN, Gage will jump to various points in the lives of the heroes to chart the evolution of their interactions. The series begins in the Silver Age, heads to the post-Secret Wars period, and catches up with the "New Fantastic Four" team of Spidey, Ghost Rider, Hulk, and Wolverine before finishing up in the present day Marvel Universe.
Of course, these team-ups will not be to buy groceries or pick up garbage in Central Park, which means the five-some will be locking horns with baddies a-plenty.
"Venom!" Gage excitedly proclaims. "Well, the Venom symbiote without a host.  In issue #3, the Skrull temptress De'Lila will set the members of the new and old FF against each other-though mixing the rosters up a bit."
Gage brings out the biggest guns, however, in issue #1: Doctor Doom and Namor.
"They are the two 'biggest' of the early Silver Age FF villains, and I saw a perfect opportunity to bring them both into the story when I realized that, to my knowledge, Namor never came looking for revenge after Doom betrayed him in FANTASTIC FOUR #6," the writer explains. "So in our first issue, he does-on the campus of Empire State University.  Hilarity ensues!  And, of course, lots of things getting broken."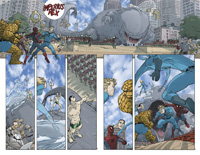 While these battles should be more than enough to draw fans in, Gage teases that, as with X-MEN/SPIDER-MAN, an overarching mystery drives the story.
"In the final issue, we'll see the return of an existing character that has had a hand in everything that's happened in the previous issues," he divulges. "The hints will be there all along, and I expect savvy fans to figure it out fairly quickly, but the full reveal comes in issue #4." 
He adds, "Last time we told you right away, this time we make you wait."
However, Gage thinks that series biggest selling point comes courtesy of his collaborator, Alberti:
"Mario was essential. Without Mario, I don't think I would have wanted to do this, and I doubt editors Tom Brennan and Steve Wacker would have either. His art is so beautiful to look at; it has the lush European style you see in [Milo] Manara and others, while at the same time perfectly capturing the character and action elements that make classic Marvel stories so memorable. He does everything masterfully! And he inks and colors, too. It's a joy every time a new page comes in!"
Look for all the latest news, pictures and videos from C2E2 all weekend long on Marvel.com!
To find a comic shop near you, call 1-888-comicbook or visit www.comicshoplocator.com
Not a subscriber to Marvel Digital Comics Unlimited yet? Join now!
Download SPIDER-WOMAN and ASTONISHING X-MEN Motion Comics now on iTunes! For more information on motion comics, visit the Marvel Motion Comics hub!"
Download episodes of "X-Men: Evolution", "Wolverine and the X-Men", "Fantastic Four: World's Greatest Heroes" and "The Super Hero Squad Show" now on iTunes!

Check out the official Marvel Shop for your favorite Marvel Heroes!