We're celebrating the May 7 (April 28 internationally) release of "Iron Man 2" with Iron Man Month 2010! Get ready for a monthlong mega mix of all things Shellhead right here on Marvel.com!
By Tim Stevens
Virginia "Pepper" Potts is an adult female who appears to be of average-to-above average physical fitness. The client has recently undergone surgery to remove a magnetic disc that was necessary to save her life after being caught in a terrorist attack. She reports that she is healing well physically from the surgery and presents as such.
The surgery came at the end of a series of incidents in which the client found herself aiding Tony Stark, labeled a fugitive at the time. In the process of helping, Potts became a fugitive from H.A.M.M.E.R. in both her civilian identity and her armored alter ego, Rescue. Stark survived the
ordeal, with the help of the client's magnetic disc, and both of them are currently waiting to be exonerated of all charges in light of what has happened to H.A.M.M.E.R. and its director, Norman Osborn. Until then, the client is largely "lying low" and enjoying some time away from responsibilities.
Despite the client reporting this, it has rapidly become apparent that "enjoyment" is not the dominant mood state for her currently. She has expressed both relief at the return of Stark's health and frustration and anger with him. She confesses that, in some ways, she resents the fact that he survived while others she has loved and considers less selfish and/or self destructive, have died. Additionally, she feels betrayed by the revelation that Stark also had a relationship with a woman named Maria Hill, the former head of S.H.I.E.L.D., during his flight from the law as she too had been romantically involved with him in that period. She admits to some anger at herself as well for "falling" for the idea that she and Stark could have a committed relationship with each other.
When the writer last met with Potts, she was coming to terms with being Rescue, struggling to accept herself as a "super hero." Now, she no longer has the magnetic implant that made that role possible and finds herself ambivalent about this, too. She has spoken of trying to decide whether she should pursue the idea of being Rescue via different means, explaining, "If Tony can make a suit of armor for Rhodey that works without any implants, he should be able to do it for me." However, she also expresses that there is a sense of freedom that has come with the knowledge that she no longer "has" to be Rescue and that her time as the armored hero was marked by physical and emotional traumas that she is not anxious to revisit.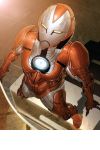 Potts and the writer will continue to discuss these feelings and work on what she needs to do to make her eventual choices the right and healthy ones for her. She reports that the mindfulness tasks assigned during the last time she worked with the writer continued to prove helpful. Therefore, it is the decision of the writer, with the client's agreement, that these tasks will continue to be an important part of the therapeutic process both in session and in vivo.
Pepper Potts will sit down with Doctors Kelly Sue DeConnick and Andrea Mutti on May 19 for her next appointment. Please review file RESCUE #1 for all details.
She can also be seen in a follow-up to the highly successful documentary film "Iron Man" to be released in theaters on May 7 under the name "Iron Man 2."
Psy D. Candidate Tim Stevens is a Dialectical Behavior Therapy Consultant and Practicum Trainee at a college counseling center who works with individuals coping with recent stressors and conflicting emotions.
Robert Downey Jr. reprises his role as billionaire industrialist Tony Stark, aka the super hero Iron Man in this sequel to the 2008 blockbuster. RDJ, Paltrow, Cheadle and Rockwell are joined by Samuel L. Jackson as Nick Fury, Scarlett Johansson as Black Widow and Mickey Rourke as Whiplash. Jon Favreau once again takes up the directorial reins for Marvel's armored avenger.

"Iron Man 2" is one of a continuing slate of films being produced by Marvel Studios based on the Marvel characters, including "Thor" on May 6, 2011, "The First Avenger: Captain America" on July 22, 2011 and "Marvel Studios' The Avengers" on May 4, 2012.

Stay tuned to Marvel.com for the official word on all things to do with Marvel movies!
Visit the official "Iron Man 2" movie site now and the Marvel.com "Iron Man 2" movie hub! Also, be sure to check out StarkExpo2010.com, the official site of Stark Expo!
Find out when the movie opens in YOUR country with the official "Iron Man 2" international release schedule!
The official Marvel Shop features all things Iron Man!
Read Iron Man Digital Comics right now! Not a subscriber to Marvel Digital Comics Unlimited yet? Join now!