By Tim Stevens
Hell's Kitchen becomes the epicenter of conflict this July as the street-level heroes of the Marvel Universe begin to question Matt Murdock's role as leader of the Hand in SHADOWLAND #1, the first issue of a limited series by writer Andy Diggle and artist Billy Tan unfolding concurrently with the events of DAREDEVIL #507-511.
Given the title, it comes as no surprise that the story centers around Shadowland, a prison/temple constructed on the ruins of a Hell's Kitchen building destroyed-along with numerous lives-by Bullseye during Dark Reign. While construction had only just begun when Daredevil recently departed for Japan, it will be completed and in full use by the start of the event.
"We'll see this play out a bit in the books, but the actual building
happened very quickly," editor Stephen Wacker reveals. "The area has become a protectorate of the Hand as Matt is trying to mold this international organization of assassins and criminals into a force for justice. And so far it's working; the streets of the Kitchen are safe for the people to walk through. Crime has all but disappeared."
At first, this seems to be enough for Daredevil's allies like Spider-Man, Iron Fist, Luke Cage, Elektra, Wolverine and Captain America, as well as wildcards like Moon Knight and The Punisher.
"The heroes for the most part trust Matt and want to believe in him," Wacker explains. "He sort of brings that out in people, particularly given the fires he faced over the past few years. If anyone has the intestinal wherewithal to bend a criminal organization into something respectable, it's Matt Murdock.. [And] certainly at first it all seems to be working out. Given the new coming Heroic Age, a sense of optimism fills the air like a pine-scented car freshener."
This sense of hope, however, proves short-lived when Murdock returns from Japan a changed man.
"His trip has shown him some truths about the enemies that are in his midst, but Matt tends to work best when people underestimate him," Wacker asserts. "He's definitely and definitively ready for the challenges in front of him."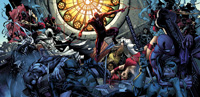 Readers should be prepared to see Daredevil cross lines, some he never has before, to protect his mission from all internal and external opposition.
"SHADOWLAND #1 comes out and there's no going back from happens there," Wacker cryptically promises.
Whatever may happen, it envelops the consciousness of the super hero community of New York City in short order and the Man without Fear will find himself with some unexpected enemies and allies, many of whom may switch sides before the event concludes with a climax that promises to change how the Marvel Universe-and Matt Murdock himself-see Daredevil for some time to come.
To find a comic shop near you, call 1-888-comicbook or visit www.comicshoplocator.com
Not a subscriber to Marvel Digital Comics Unlimited yet? Join now!
Download SPIDER-WOMAN and ASTONISHING X-MEN Motion Comics now on iTunes! For more information on motion comics, visit the Marvel Motion Comics hub!"
Download episodes of "X-Men: Evolution", "Wolverine and the X-Men", "Fantastic Four: World's Greatest Heroes" and "The Super Hero Squad Show" now on iTunes!

Check out the official Marvel Shop for your favorite Marvel Heroes!