We're celebrating the May 7 (April 28 internationally) release of "Iron Man 2" with Iron Man Month 2010! Get ready for a monthlong mega mix of all things Shellhead right here on Marvel.com
By Tim Stevens
Natalia Romanova, also known as Natasha Romanoff-she prefers Natasha-is an adult female who appears to be of above average physical fitness. She tends to arrive exactly on time for session, slipping in quietly via a side door. She presents as confident but guarded, often reacting to small noises or changes in the environment with a hyper-vigilant focus. She speaks with a slight Russian accent that she admits is partly a product of Americanization but also a concerted effort on her part to limit it.
One reason for restraining her accent is her previous employment as a
Russian
spy where, at times, she would have to adopt other accents, appearances, and so on to do her job best. The writer observed that perhaps another reason might be that, after defecting from the USSR to America, Romanoff tried to suppress as much of her "
Russian
-ness" as possible. The client allowed that this may be true but made it quite clear she did not wish to discuss it further at this time.
Currently, the client is a freelancer, occasionally working for agencies like the now defunct S.H.I.E.L.D. or acting as a vigilante under the moniker Black Widow. She describes the work as largely fulfilling and denies any moral concerns with what she does.
Currently, the client reports feeling pushed and pulled in many different directions by recent events in her life. On the positive side, she is in a relationship with the current Captain America, James Barnes, and feels very comfortable with him. However, a former lover's return to her life as part of a plot to break her found her having to revisit several individuals with whom she had had previous romantic relationships. She found this
exploration of her intimate history to be unnerving, especially given the comments some made to her regarding their past couplings.
Additionally, the client has found herself the target of an assassination attempt that she remains unclear on the purpose of. While danger is not a rare thing in her line of work, it is unusual for her to be targeted beyond the parameters of a mission or super hero battle. The result is an increased level of paranoia and suspiciousness that extends to nearly everyone around her.
Overall, the biggest difficulty Romanoff seems to be struggling with right now is reconciling her past actions with who she is now and trusting herself to be a decent person, both in relationships and as a spy and hero. As such, the writer is using validation extensively to reassure the client that what she did in the past made sense given where she was coming from and what she was doing at those points in her life. At times, the therapist is also validating that many would have reacted as she did if placed in the same situations.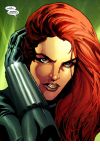 As the client begins to accept these validations and moves towards more trust in herself, the writer will then begin to argue that what was okay then, however, no longer makes sense for her today. Her past behavior served a function and often kept her alive and emotionally safe. Now, however, it will not be helpful and, in fact, might prove harmful to her long term mental health and happiness. Together then, the therapist and the client will begin to develop new healthier coping mechanisms, more positive automatic thoughts, and engage in some behavior planning designed to help her put these cognitions into practice.
Natasha Romanoff's next appointment is scheduled for May 12 with Doctors Marjorie Liu and Daniel Acuna. Details on the session can be found in file BLACK WIDOW #2. She also appears in "Iron Man 2," the sequel to the highly successful documentary film "Iron Man." The film will be in theatres starting on May 7.
Psy D. Candidate Tim Stevens is a Dialectical Behavior Therapy Consultant and Practicum Trainee at a college counseling center who works with individuals coping with recent stressors and conflicting emotions.
Robert Downey Jr. reprises his role as billionaire industrialist Tony Stark, aka the super hero Iron Man in this sequel to the 2008 blockbuster. RDJ, Paltrow, Cheadle and Rockwell are joined by Samuel L. Jackson as Nick Fury, Scarlett Johansson as Black Widow and Mickey Rourke as Whiplash. Jon Favreau once again takes up the directorial reins for Marvel's armored avenger.
"Iron Man 2" is one of a continuing slate of films being produced by Marvel Studios based on the Marvel characters, including "Thor" on May 6, 2011, "The First Avenger: Captain America" on July 22, 2011 and "Marvel Studios' The Avengers" on May 4, 2012.

Stay tuned to Marvel.com for the official word on all things to do with Marvel movies!
**Get discounted seasons of your favorite Marvel shows on iTunes.
For a limited time at iTunes.com/MarvelComics.**
Visit the official "Iron Man 2" movie site now and the Marvel.com "Iron Man 2" movie hub! Also, be sure to check out StarkExpo2010.com, the official site of Stark Expo!
Find out when the movie opens in YOUR country with the official "Iron Man 2" international release schedule!
The official Marvel Shop features all things Iron Man!
Read Iron Man Digital Comics right now! Not a subscriber to Marvel Digital Comics Unlimited yet? Join now!
Required Reading: check out key Iron Man collections available now in bookstores everywhere!