Ryan Doyle video clips courtesy of © World Freerunning & Parkour Federation
By Harry Go
With years of experience under his belt, Ryan Doyle has no problem jumping from rooftop to rooftop, flipping off a 15-foot drop or scaling a three story building. But don't be fooled, because not only is this traceur legally blind, he also has a metal plate on his fibula and a 30cm bar down the core of his shin bone from a fall in the 2007 Red Bull Art of Motion competition (which he won, by the way). Combining his martial arts training with parkour, Ryan has developed a fearless mentality and distinctive style similar to Marvel's very own man without fear, Daredevil! Catch him as he stars in MTV's Ultimate Parkour Challenge, airing Thursdays at 10:30PM ET/PT!
Ryan stopped by Marvel.com headquarters to discuss Daredevil and what it's like not being able to see while jumping off a building!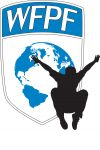 To learn more about Freerunning/Parkour visit the World Freerunning & Parkour Federation.

ULTIMATE PARKOUR CHALLENGE LIVE tonight, MAY 13, at 10:30pm ET/PT on MTV!
Want to see Parkour action in Marvel Comics? Recent Spidey villain Screwbell uses her Parkour skills to avoid Spider-Man's webs! Check her out in Marvel Digital Comics Unlimited, AMAZING SPIDER-MAN #559! Join now!
**Get discounted seasons of your favorite Marvel shows on iTunes.
For a limited time at iTunes.com/MarvelComics.**
To find a comic shop near you, call 1-888-comicbook or visit www.comicshoplocator.com
Not a subscriber to Marvel Digital Comics Unlimited yet? Join now!
Download SPIDER-WOMAN and ASTONISHING X-MEN Motion Comics now on iTunes! For more information on motion comics, visit the Marvel Motion Comics hub!"
Download episodes of "X-Men: Evolution", "Wolverine and the X-Men", "Fantastic Four: World's Greatest Heroes", and "The Super Hero Squad Show"
now on iTunes!

Check out the official Marvel Shop for your favorite Marvel Heroes!