By Tim Stevens
Note: The writer, until this session, has not worked with the client previously. However, it should be noted that he did prepare a brief on her for the Mayor's office several months ago. The client has been made aware of this and reported that she still felt comfortable with pursuing therapy. The writer will continue to periodically check-in on this topic to ensure the client continues to feel comfortable and secure in regards to the therapeutic relationship.
Felicia Hardy, best known as the costumed adventurer The Black Cat, is an adult female who appears to be in excellent physical shape. She has, in the past, acted as a criminal, a hero, and something in between. She has worked with several super-powered figures on both sides of the law and, at times, has been romantically linked to individuals in the field, most prominently the street vigilante Spider-Man.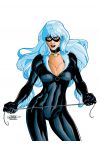 Currently, the client admits to having returned to stealing but is only doing so in ways that she feels are "morally sound." Asked to elaborate by the writer, Hardy could only say, "I know when I see a job whether it is wrong or right to do it. In the past I've taken jobs regardless, now I just take the right ones." Follow-up questions regarding how she feels about living this way as opposed to being a more "pure" hero were generally deflected with jokes like, "Well, this certainly pays better." While the writer will continue to probe this issue, it is clear that, at this time, Hardy is not entirely comfortable exploring it.
Previous hypotheses expressed in the brief regarding the client's motives to steal and her drive to be the best being fueled by her father remain unconfirmed at this time. Hardy found the interpretations "interesting" but refused to confirm or deny them.
Currently, the client is feeling "off balance" and conflicted in both her personal and "professional" lives. She has recently revived a romantic relationship with Spider-Man and despite this one being "purely physical" has found herself remembering their previous times together and feeling wistful for those memories. Additionally, she has been hired by a group of individuals she originally had no suspicions about but now feels as though they might be dangerous, if not to herself, than certainly to Spider-Man. After a long time of not having to contend with romantic or guilty feelings,
the client is finding herself overwhelmed when faced with them both simultaneously.
These issues will be probed further next session and the client and writer will begin to work together to develop homework assignments to deal with these difficulties.
Felicia Hardy's next session will be June 16 with writers Jan Van Meter and Javier Pulido. Please review file AMAZING SPIDER-MAN PRESENTS: BLACK CAT #1 on that day for further details.
Psy D. Candidate Tim Stevens is a Dialectical Behavior Therapy Consultant and Doctoral Intern at a college counseling center.
To find a comic shop near you, call 1-888-comicbook or visit www.comicshoplocator.com
Not a subscriber to Marvel Digital Comics Unlimited yet? Join now!
Download SPIDER-WOMAN and ASTONISHING X-MEN Motion Comics now on iTunes! For more information on motion comics, visit the Marvel Motion Comics hub!"
Download episodes of "X-Men: Evolution", "Wolverine and the X-Men", "Fantastic Four: World's Greatest Heroes", and "The Super Hero Squad Show"
now on iTunes!

Check out the official Marvel Shop for your favorite Marvel Heroes!