By Tim Stevens
To bring Asian-Pacific American Week to a close here at Marvel.com, we check in once more with writer Greg Pak as he recalls his first encounter with an Asian Pacific American Heritage Month celebration and some of the works that have made him proud to be part of Marvel's community.
Greg Pak: My first exposure to Asian-Pacific American Heritage Month came in the early 90's when I was at film school at New York University. Purely by chance, I happened to be out on a gorgeous May afternoon walking through Union Square and stumbled across a giant festival packed with a multiracial crowd featuring a preponderance of Asian people. It was the Asian-Pacific American Heritage Festival organized by CAPA [Coalition of Asian-Pacific Americans], and it was awesome. I may be mixing up a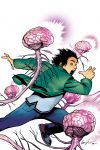 few years of these festivals in my head, but I remember dragon dancers, drumming and martial arts exhibitions, rock 'n' roll, huge amounts of street food, spoken word poetry, voter registration tables, bone marrow donation groups, films running on portable televisions, Margaret Cho and Wayne Wang. One of the things I loved was that it wasn't just about cultural tourism or celebrating Asian arts and culture; there were also a slew of artists, performers, and organizations with a specifically Asian-American focus. That's always been critical to me, since to this day Asian-Americans often struggle against the perception of being outsiders or foreigners. Don't get me wrong: I love me some taiko drumming. And I sure wish I knew kung fu. But Asian-Pacific American Heritage Month provides a pretty great opportunity to shine the light on other aspects of that great diversity of Asian-American experiences as well, and to help get non-stereotypical yet wildly entertaining images and experiences out to the wider world.
As the years went by, I began to get invitations to screen my own films during Asian-Pacific American Heritage Month to various university and community groups.  So I've long been grateful for the opportunity the month provides to get new work in front of fresh audiences. And I'm particularly thrilled that this year we're joining the festivities here at
Marvel.
One of the things that's made me very proud to work at Marvel is the company's long history of publishing work featuring heroes of remarkably diverse backgrounds. I've been lucky enough to work on a few of these classic characters myself: writing the recent WAR MACHINE series starring Jim Rhodes and telling the origin story of German Jewish Holocaust survivor Max Eisenhardt in the MAGNETO TESTAMENT limited series. This month we're shining a spotlight on some of the Asian-American characters that Marvel has featured over the years, including my own creation, Amadeus Cho, and one-time Howling Commando Jimmy Woo, who's now the head of Jeff Parker's beloved ATLAS.
To find a comic shop near you, call 1-888-comicbook or visit www.comicshoplocator.com
Not a subscriber to Marvel Digital Comics Unlimited yet? Join now!
Download SPIDER-WOMAN and ASTONISHING X-MEN Motion Comics now on iTunes! For more information on motion comics, visit the Marvel Motion Comics hub!"
Download episodes of "X-Men: Evolution", "Wolverine and the X-Men", "Fantastic Four: World's Greatest Heroes", and "The Super Hero Squad Show"
now on iTunes!

Check out the official Marvel Shop for your favorite Marvel Heroes!