AMAZING SPIDER-MAN #642
Written by MARK WAID & STAN LEE
Penciled by PAUL AZACETA & MARCOS MARTIN
Cover by MARKO DJURDJEVIC
Variant Cover by JOHN ROMITA, SR.
A five part spider-odyssey begins in ORIGIN OF THE SPECIES!
With Peter Parker's ONE MOMENT IN TIME behind him and Mary Jane back in his life, Spidey finds himself ready for a new start ... but the various threads of his life since his BRAND NEW DAY are about to crash together violently. When Norman Osborn's baby is born ... every villain on the planet wants the first ever strain of pure Goblin blood, leaving Spider-Man's friends and family exposed to a Sinister plan that threatens to bring down every strand or Peter's life that's been stitched together carefully over the past few years. It may be a cliché to say it ... but after ORIGIN OF THE SPECIES absolutely nothing will be the same. Also this issue, we begin a series of covers by the brilliant Marko Djurdjevic that when all put together will form a giant wall-sized Spider poster featuring the people in Spider-Man's life! Plus ... the Spidey Sunday feature continues breaking the 4th wall of Web-swinging Wonder by legends Stan Lee and Marcos Martin (well, Stan's a legend ... Marcos is just a man who draws like one.)
32 PGS./Rated A ...$2.99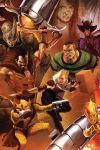 AMAZING SPIDER-MAN #643 & #644
Written by MARK WAID & STAN LEE
Penciled by PAUL AZACETA & MARCOS MARTIN
Covers by MARKO DJURDJEVIC
Issue #643 Variant Cover by PHIL JIMENEZ
Issue #644 Variant Cover by CHRIS BACHALO
Issue #643 Super Hero Squad Variant also available
Part 2 & 3 of ORIGIN OF THE SPECIES.
Plus the SPIDEY SUNDAY FEATURE continues!
32 PGS.(each)/Rated A ...$2.99 (each)
AMAZING SPIDER-MAN PRESENTS: BLACK CAT #4 (of 4)Written by
JEN VAN METER
Penciled by
JAVIER PULIDO
Cover by
AMANDA CONNER
A GRIM HUNT TIE-IN! This is it! With Spider-Man tangled in the web of The Grim Hunt, Black Cat's solo adventure comes to a close and it's a must-read for any fan of the web-slinger and his supporting cast! The Black Cat finds herself face-to-face with the family that's been after Spidey for months, and she's not pleased to see them.
32 PGS./Rated T+ ...$3.99
SPIDER-MAN #6Written by
PAUL TOBIN
Penciled by
ROBERTO DI SALVO
Cover by
KARL KERSCHL
Still recovering from his injuries in his fateful battle with Bullseye, Spider-Man is forced to rely on his friends to stem the tide of New York City's crime. But while a girl who can talk to animals might be able to stop carjackers and pickpockets ... it sure would be a horrible time for a truly deadly foe like Dr. Octopus to arrive. Like he does.
32 PGS./MARVEL ADVENTURES/All Ages ...$2.99
SPIDER-MAN: BACK IN QUACK #1Written by
STUART MOORE
Pencils by
MARK BROOKS & JOE SUITOR
Cover by
SKOTTIE YOUNG
Presenting two of Marvel's finest: Spider-Man and ... Cynical Duck (TM)? Yes, Howard the Duck's brain has been thoroughly scrubbed, his hard-edged humor carefully dulled down for maximum demographic acceptance. It's up to Peter Parker to set the duck straight -- but does the world prefer Howard this way? Guest-starring the villainy of SOOPhI, the utter cluelessness of Mayor J. Jonah Jameson, and the unnerving eroticism of "Swizzle," SOOPhI's whip-wielding corporate spokeswoman. So wrong it's ... well, no, it's still wrong, courtesy of Stuart Moore (NAMOR) and Mark Brooks (YOUNG AVENGERS). Plus: a tiny-size Man-Thing backup feature by Stuart Moore & Joe Suitor (MARVEL BREAKOUT)!
40 PGS./One-Shot/Rated A ...$3.99
SPIDER-MAN/FANTASTIC FOUR #3 (of 4)
Written by CHRISTOS GAGE
Pencils & Cover by MARIO ALBERTI
Years ago, when the Fantastic Four were captured by a mysterious Skrull temptress, the "New FF" stepped in to take their place ... Spider-Man, Wolverine, the Hulk and Ghost Rider! Now, for the first time, see what happened immediately following their classic first adventure ... as the two teams get shaken up and pitted against each other! Christos Gage & Mario Alberti bring you the ultimate super hero showdown!
32 PGS./Rated T+ ...$3.99
WEB OF SPIDER-MAN #12Written by
FRED VAN LENTE
Penciled by
PHILLIPE BRIONES & PEPE LARRAZ
Cover by
JELENA KEVIC-DJURDJEVIC
FINAL ISSUE!  WHO IS DOCTOR OCTOPUS?!
As the good Doctor resurfaces in Spidey's life in ORIGIN OF THE SPECIES, get a glimpse into how Doc Ock came to be the multi-armed maniacal menace he is! THEN -- CAN MARY JANE RESCUE SPIDER-MAN?! When Doc Tramma, Mr. Negative's scientist supreme and femme fatale, targeted the life of Mary Jane Watson, she kidnapped her ex-beau, Peter Parker! With the help of THE BLACK CAT, MJ's prepared to rescue the Amazing Spider-Man!
40 PGS./Rated T+ ...$3.99
To find a comic shop near you, call 1-888-comicbook or visit www.comicshoplocator.com
Not a subscriber to Marvel Digital Comics Unlimited yet? Join now!
Download SPIDER-WOMAN and ASTONISHING X-MEN Motion Comics now on iTunes! For more information on motion comics, visit the Marvel Motion Comics hub!"
Download episodes of "X-Men: Evolution", "Wolverine and the X-Men", "Fantastic Four: World's Greatest Heroes" and "The Super Hero Squad Show" now on iTunes!
Check out the official Marvel Shop for your favorite Marvel Heroes