By Tim Stevens
Rahne Sinclair is a young adult female of average to above average physical fitness. She is a self identified mutant with the ability to shape shift into the form of a wolf, hence her alias, Wolfsbane. While in this form, she experiences increased strength and senses both of which have recently grown exponentially due to the intervention of fellow mutant Josh Foley, aka Elixir. Sinclair also recently became pregnant, which initially was a source of health concerns, but, at this time, no longer appears to be the case. The client just completed time as a member of a mutant rights group, X-Force, which she briefly described as "something of a special ops team" and is considering a return to X-Factor Investigations.
The client presents as introspective and honest. While she has made strides over the years, some of her comments and body language still
reflect a discomfort with her status as a mutant, particularly the fact that her "other form" is that of a wolf. Much of this appears to be connected to her deep religious faith. However, her faith is also a positive force in her life that she appears to draw much strength from. While this writer is not a Christian or Christian-informed counselor, it may make sense at times to make use of her faith to guide her therapy. The writer plans to raise this idea with the client in the future, as well as the possibility that she may prefer a more religiously-oriented therapist to aid her in accepting herself and her faith simultaneously, as opposed to seeing them as somewhat at odds with one another.
This dichotomy may have become more of a forefront issue in her mind as of late because of a recent encounter with Reverend Craig, the man who raised her until her powers manifested themselves. He was abusive to her throughout her life and then led a mob to try and kill her when he realized she was a mutant. Following that, she did not have meaningful contact with the Reverend until recent events placed her at odds with a radical anti-mutant group Craig had thrown his lot in with, the Purifiers. He had the client kidnapped and brainwashed, resulting in her attacking a teammate, Warren Worthington, and maiming him. Eventually, Sinclair was able to regain control and broke ties with her father, telling him that she no longer cared about him at all. However, following that, she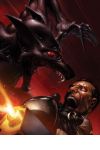 experienced lost time and reawakened to find herself praying, surrounded by blood with no knowledge of what had happened. She has yet to recall what occurred and there were no witnesses; she remains deeply unsettled by this.
While, at times, people are able to recall events they initially had no memory of, often they are not. The writer has informed the client of this and that, therefore, the focus of therapy should not be on "recovering" these memories, a process that is dubious at best. Instead, the client and writer will work together to help her process her feelings on the matter and come to a place where she can be comfortable with the gap in her knowledge and accept it. Additionally, much work must be done on her father's multiple betrayals of her, from childhood abuse to attempted murder to turning her against her friends. The writer expects that this work will often dovetail with the above mentioned reconciliation of faith with her status as a mutant, as Craig is the source of nearly all of her early religious lessons.
Rahne Sinclair's next appointment will be on August 18 with Doctors Peter David and Sebastian Fiumara. Please review X-FACTOR #208 on this date for further details.
Psy D. Candidate Tim Stevens is a Practicum Trainee at a Federal Correctional Institute and a Dialectical Behavior Therapy Consultant who has experience working with individuals with trauma histories and difficulty accepting themselves.
To find a comic shop near you, call 1-888-comicbook or visit www.comicshoplocator.com
Not a subscriber to Marvel Digital Comics Unlimited yet? Join now!  
Download SPIDER-WOMAN and ASTONISHING X-MEN Motion Comics now on iTunes! For more information on motion comics, visit the Marvel Motion Comics hub!
Download episodes of "X-Men: Evolution", "Wolverine and the X-Men", "Fantastic Four: World's Greatest Heroes" and "The Super Hero Squad Show" now on iTunes!

Check out the official Marvel Shop for your favorite Marvel Heroes!