By Tim Stevens
In December, the heavens and the earth will shake as the God Squad, under the guidance of writer Marc Sumerak and artist Dan Panosian, make their presence felt in CHAOS WAR: GOD SQUAD. The one-shot, which takes place between CHAOS WAR #3 and #4, places the focus firmly on the team's latest members.
"At a certain point in the battle, the Squad's newest recruits find themselves separated from their leaders-Hercules, Thor and Amadeus Cho," Sumerak reveals. "But while their paths may be divergent, the remaining members of the God Squad find themselves on a mission of utmost importance. In fact, they may have found the key to defeating The Chaos King once and for all!"
The "they" in question features an impressive lineup that draws on many corners of the Marvel Universe, including former Avengers, cosmic heroes, and champions from bowels of Hell.
"The first and most high-profile of the new members is the Silver Surfer," notes Sumerak. "Though not actually an immortal or a god, the Surfer has had to play God every time he's chosen a planet for Galactus to consume. Next up, we have Sersi. She's one of the most recognizable members of the Eternals, blessed with the power of transmutation. But most importantly, she's been dead before and she has come back; she knows full well that there is no return from the oblivion that The Chaos King is trying to bring about. More than anyone on this team, she understands how high the stakes of this war really are.
"The beautiful Venus is also on the new roster. There are a lot of interesting facets of Venus beyond her innocent smile and her hypnotic song, and we'll get to see the entire spectrum of them in this one-shot. Finally, there's Daimon Hellstrom, The Son of Satan. He isn't exactly drafted onto the team by Herc, but circumstance finds him fighting alongside our heroes for a common cause.
"We'll also be seeing a few surprise additions to the team from Marvel's celestial and mythological pantheons, including a certain furry and ferocious deity from an isolated African nation."
For Panosian, the most interesting of the Squad proved to be Hellstrom, owing in part to a fascination that began in childhood.
"When I was first introduced to the character, I was just a little kid," the artist recalled. "Something about him seemed different from the other Marvel Universe characters.  It was scary and intriguing.  I have a feeling fans are going to react very well to seeing him in this storyline.  He's a perfect fit.  Watching him deal with the Chaos War was a real treat for me, simply from a fan standpoint."
Beyond the God Squad, the one-shot also offers an opportunity to take closer look at the Japanese pantheon of gods, the Kami, from which The Chaos King has sprung.
"It was exciting to get to shine some light on a relatively unexplored corner of Marvel's highest powers," Sumerak says. "Although they aren't the stars of this one-shot, the Kami really came to life for me in some unexpected ways as I put this story together. Expect them to have some
unique interactions with the God Squad as they face oblivion and join the
War
that their cousin started!"
While handling the characters and being a part of huge event storytelling proved attractive for all involved, the chance to work with one another clearly became a motivating factor as well.
"My editors, Mark Paniccia and John Denning, must have been touched with divine inspiration when they chose Dan for this job," Sumerak says in praise of his collaborator, "Every page I've seen so far explodes with intense energy and action without sacrificing any of the story's essential emotion. He's managed to capture not only the epic scope of the conflict itself, but also the heaviness that is inherent for a group of individuals facing the end of all that is."
Panosian expressed equal excitement about his chance to work with Sumerak:
"Marc Sumerak has merged high action with a lot of intense emotion. It's a rare thing, but Marc has managed to create a comic book that feels more like a movie."
That shared sense of respect for one another translates on to the page, according to their editor Mark Paniccia, delivering an intelligent, challenging story in the mighty Marvel tradition.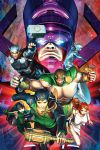 The God Squad
"There's plenty of insane action [and] the story has a darkness to it that not all heroes may be strong enough to overcome," he guarantees.
Keep checking Marvel.com all week for more exciting Chaos War news and announcements!
To find a comic shop near you, call 1-888-comicbook or visit www.comicshoplocator.com
Not a subscriber to Marvel Digital Comics Unlimited yet? Join now!
Download SPIDER-WOMAN and ASTONISHING X-MEN Motion Comics now on iTunes! For more information on motion comics, visit the Marvel Motion Comics hub!"
Download episodes of "X-Men: Evolution", "Wolverine and the X-Men", "Fantastic Four: World's Greatest Heroes", and "The Super Hero Squad Show"
now on iTunes!

Check out the official Marvel Shop for your favorite Marvel Heroes!