By Tim Stevens
General Thaddeus Ross was formerly a healthy-looking adult male in his late 50's. Currently, however, he is bright red in pigmentation and somewhere around seven feet tall. Referred to as of late as the Red Hulk, the General has indeed taken on an appearance very much like the green-skinned behemoth. Whereas in previous sessions he presented as stern and reserved, he now acted more arrogant and spiteful with his frustration being evident in nearly every word he spoke. Interestingly, he has also become more verbose. Answers that were once delivered in staccato bursts now might be conveyed in several sentences, often marked by a strong sense of self-involvement. It is unclear if the transition from being General Ross to this super-powered version of himself has caused this personality change, but it seems likely.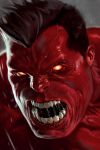 Previously, mentions of Bruce Banner (better known as the Hulk) or the client's daughter Betty (who has also been converted to a Red Hulk-like being) are sure to elicit a noticeably increased emotional reaction. This remains the case even with the aforementioned changes in personality and presentation.
Once more, the client did not seek out therapy on his own. The writer is performing these sessions at the behest of Captain Steve Rogers, formerly known as Captain America and now the Commander of U.S. security forces. The interviews were conducted in a secret facility, under the watch of armed guards. The client and the writer were separated by a specially-crafted cell designed to prevent the client's escape despite his impressive strength. All these factors no doubt influenced the ability of the writer to form a therapeutic relationship of the client and must be taken into account when evaluating this report.
Previously evaluations have pointed out that the General often exhibits antisocial behaviors, particularly as it relates to Bruce Banner. Unfortunately, these behaviors seem to have increased since his conversion to his Hulk persona. However, this writer believes that the client still possesses a moral code and is therefore not diagnosable as having Antisocial Personality Disorder. This is particularly evident in his motivation to "return the United States to its former state of greatness;" still, having said that, it may often be difficult to detect this code or to align it with most people's more mainstream views of right and wrong. Comments
about this fact were met largely with indifference or derision by the client.
Attempts to probe how the client feels about being converted into a cardinal-hued mirror of the man he spent much of his career trying to catch and destroy were largely rebuked. The writer did observe a visible change in presentation, both verbally and body language-wise, during this line of questioning, however, and therefore feels comfortable in hypothesizing that it is a source of discomfort and discontent for the client. While he is obviously trapped by his specially-created cell, the fact that he is stuck in this muscle-bound form seems far more distressing to him than prison itself. A similar reaction pattern is visible when the General discusses his daughter and is asked questions regarding her physical evolution.
Overall, the writer cannot recommend the client for any sort of collaboration at this time. His behavior as the Red Hulk coupled with his current presentation point to a deeply unhappy man who has been rendered volatile and unpredictable by personality changes. In a very real way, he presents as an unrepentant addict might: aware of his actions, perhaps sorry for them, but unable and/or unwilling to depart from the current patterns of behavior.
General Thaddeus Ross, the Red Hulk, will next meet with Doctors Jeff Parker and Gabriel Hardman on September 22. Please review file HULK #25 on that day for details.
Psy D. Candidate Tim Stevens is a Practicum Trainee at a Federal Correctional Institute and a Dialectical Behavior Therapy Consultant.
To find a comic shop near you, call 1-888-comicbook or visit www.comicshoplocator.com
Not a subscriber to Marvel Digital Comics Unlimited yet? Join now!
Download SPIDER-WOMAN and ASTONISHING X-MEN Motion Comics now on iTunes! For more information on motion comics, visit the Marvel Motion Comics hub!"
Download episodes of "X-Men: Evolution", "Wolverine and the X-Men", "Fantastic Four: World's Greatest Heroes", and "The Super Hero Squad Show"
now on iTunes!

Check out the official Marvel Shop for your favorite Marvel Heroes!