"Iron Man 2" heated up the theaters this summer, and soon you can bring the blockbuster movie home with you as it hits Blu-ray and DVD on September 28! As we countdown to the big day, Marvel.com will bring you a look at some of the stories, characters and relationships that influenced the film, as well as a peek or two behind the curtain of the "Iron Man 2" Blu-ray itself!
"And there came a day, a day unlike any other, when Earth's mightiest heroes and heroines found themselves united against a common threat. On that day, the Avengers were born-to fight the foes no single super hero could withstand!"
As the Heroic Age dawns on the Marvel Universe and we prepare for a new chapter in the ongoing saga of Earth's Mightiest Heroes, each Friday Marvel.com will present a different column focusing on the one and only Avengers. From line-ups to costumes to villains to classic stories and beyond, we've got you covered on the history of Marvel's most prolific team of heroes!
So let the call go out: Avengers Assemble!

 

By TJ Dietsch
Welcome to a different kind of Earth's Mightiest Costumes! This time instead of taking a look at one character's series of costumes over the years, we'll be waxing heroic on a theme: Armored Avengers. Over the years, Iron Man hasn't been the only member of Earth's Mightiest Heroes to don armor of some kind or another, though he tends to be the main architect behind those new looks. So, with our minds set on watching "Iron Man 2" on Blu-ray and DVD when it comes out on September 28, we're dusting off some of the coolest entries in the Avengers' hall of armors.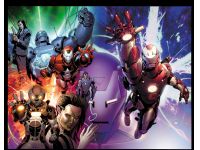 Iron Man
The first and foremost armored hero in all the galaxy, Tony Stark invents more armors than Spider-Man has one-liners. We've taken a look at Iron Man's personal Hall of Armors in a previous edition of Earth's Mightiest Costumes, but you can't have a list of armored Avengers without the originator. Besides, who looks better in these tin suits than Tony, a founding member of the Avengers? The team's resident tinkerer, Stark often helps out his teammates when they need--or he thinks they need--an upgraded costume.
Once upon a time, Jim Rhodes and Tony Stark were as close as Iron Fist and Luke Cage. Like many friends, they've drifted apart a bit since the good ol' days when Rhodes first took over for Stark as Iron Man and actually helped found the West Coast Avengers. After Stark returned with the now-classic Silver Centurion armor, Rhodey got his own identity and suit, War Machine, which he still wears to this day in the fight for justice. As War Machine, he would eventually return to the West Coast Avengers for a stint, and today serves as one of Steve Rogers' Secret Avengers.
When you think of Captain America, you're probably thinking of his classic costume. Sure, Steve Rogers has had plenty of other looks and identities over the years, but the one that earns him a spot on this list comes from the 90's when the Super Soldier Serum degenerated thanks to a virus. Losing his strength, Cap asked Tony Stark for some help and got a brand new armor that would both keep him safe and allow him to fight to the very end. Luckily, Steve eventually got better and proved able to fight without the armor once more! For even more of Cap's costumes through the years, check out his very own edition of Earth's Mightiest Costumes.
Readers initially suspected that Iron Lad, the founder of the Young Avengers, had some link to Iron Man, what with the Silver Centurion-like armor and familiar moniker. As it turned out, IL was really a teen version of Kang the Conqueror who had come back in time to start his own team of Avengers and become a hero, thus negating his future evil self. As you might expect, that kind of time travel shenanigans didn't turn out perfectly, and Iron Lad had to go back to the future. But he left his futuristic armor and some of his personality behind to be turned into the current Vision.
Tony Stark created this more-flexible version of the Iron Man suit, dubbed the "Iron Spider" armor, for fellow New Avenger Spider-Man and gave it to him just as tensions were rising before Civil War. The suit gave Spidey all kinds of extra abilities like increased strength and bullet-resistance along with biological monitoring features. Parker worried that Stark had ulterior motives in giving him the suit, and his paranoia turned out to be well-founded when Stark tried to take the armor over; this led to Peter ditching the duds, which were later used by the Initiative's Scarlet Spiders. 
Former Green Goblin and persistent Spider-Man nemesis Norman Osborn rose to prominence at the end of Secret Invasion with his very public execution of Skrull queen Veranke. From there, he took over S.H.I.E.L.D., tuned it into the purple and green-themed H.A.M.M.E.R., and began leading his own team of Avengers as Iron Patriot, wearing a suit of armor that called to mind both Iron Man and Captain America's costumes. Osborn based his armor on pieces of Stark's tech he scrounged up, but couldn't completely recreate the Iron Man suit. Soon enough, Osborn found himself fighting the Asgardians in Siege, getting punched out by Volstagg, chastised by Steve Rogers, and ultimately stripped of his armor and locked in jail where he belongs.
To find a comic shop near you, call 1-888-comicbook or visit www.comicshoplocator.com
Not a subscriber to Marvel Digital Comics Unlimited yet? Join now!
Download SPIDER-WOMAN and ASTONISHING X-MEN Motion Comics now on iTunes! For more information on motion comics, visit the Marvel Motion Comics hub!"
Download episodes of "X-Men: Evolution", "Wolverine and the X-Men", "Fantastic Four: World's Greatest Heroes", and "The Super Hero Squad Show"
now on iTunes!

Check out the official Marvel Shop for your favorite Marvel Heroes!