"Iron Man 2" heated up the theaters this summer, and soon you can bring the blockbuster movie home with you as it hits Blu-ray and DVD on September 28! As we countdown to the big day, Marvel.com will bring you a look at some of the stories, characters and relationships that influenced the film, as well as a peek or two behind the curtain of the "Iron Man 2" Blu-ray itself!
By Tim Stevens
Justin Hammer is an adult male in his late middle age years. He appears to be in average physical health for his age, but reports having been recently diagnosed with cancer. He denies having any feelings regarding his disease, one way or another.
He arrives on time to sessions, but typically delays their start by at least five minutes every time by attending to business-related phone calls. He is extremely well-dressed for each appointment, favoring what appear to be expensive tailored suits.
He presents as intelligent, but disinterested. He speaks in a clipped upper class, educated British accent, with slight undercurrents of French and Italian pronunciations on some words, befitting given his time in the country of Monaco. He seems to treat each meeting as an inconvenient, unpleasant responsibility that he would prefer to avoid. However, he has rejected comments of this nature from the writer and continues to make follow-up appointments. Reassurances that the client's oncologist wanted him to only come for an introductory session to see if it might prove beneficial have been ignored. Hammer will only say, as explanation for his commitment to the therapy, that he needs to "monitor my emotional states closely to ensure I did not get cross contaminated" (he will not say what this refers to) and that he sees things through to the end.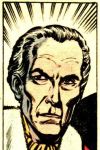 While discussions of his illness, the process of dying, and his family--he has a daughter named Justine--seem to not engage him at all, business is a topic of great interest. While discussing his company, employees, competition, or the economy in general, his whole affect changes. The client's posture shifts and his full attention is suddenly brought to bear. His casual arrogance becomes a more active one and he exhibits signs of aggression and cruelty, speaking with active disdain for rivals and what he calls "independent contractors" (another expression he refuses to define with any kind of detail). Particular disgust is reserved for Stark Industries and its head, Anthony "Tony" Stark. Hammer can barely contain his rage when discussing Stark, spitting his name out as if it were poisoned, and he has openly admitted that it is his goal to see Stark and his company decimated before the client's death.
The hows of his business, however, are left intentionally vague. The client seems to delight in being evasive when it comes to questions about what exactly his company does ("repurposing technology, upgrade business models, aid in legal matters, profit share"), why he dislikes Stark Industries so much ("it has been a thorn in my side for a long while," "I cannot abide that iron gentleman"), or what his plans for eliminating the competition are ("I have something that I think is sure to make Mr. Stark act very...irrationally"). It is clear that, despite the number of sessions Hammer has attended, there is no therapeutic relationship between the client and the writer at this time.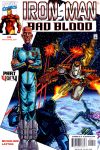 As such it is difficult to give a formal diagnosis with a strong degree of confidence. The client certainly exhibits some classic signs of both Paranoid Personality Disorder and Antisocial Personality Disorder, but the writer does not know that either rises to diagnosable levels. Additionally, Hammer appears to have difficulty forming healthy relationships. This is not only exhibited by his interactions with the writer but also his reported lack of close friends or confidantes, his rejection of most of his family, and his cruel treatment of his own daughter whom he requires to "prove herself worthy" of the family name. Finally, emotional expression seems to be an area of concern as, with the exception of anger, disgust, and arrogant self satisfaction, the client presents almost no feelings of any kind at any time.
Justin Hammer declined to make an appointment for next week as he has to make a trip to visit his company's space station and was unsure on when he would come back. He did, however, promise that he will immediately contact the writer upon his return to schedule one.
Unfortunately, the client disappeared after an accident on his space station and is assumed dead. Thus, the writer has no further insights to offer regarding Justin Hammer. However, the writer recommends the biopic about Anthony Stark called "Iron Man 2." It is available on September 28 on Blu-ray and DVD and features Sam Rockwell as Justin Hammer. This may offer additional understanding of the client's inner world.
Psy D. Candidate Tim Stevens is a Practicum Trainee at a Federal Correctional Institute and a Dialectical Behavior Therapy Consultant who has experience with individuals with personality disorders and difficulty with healthy emotional expression.
To find a comic shop near you, call 1-888-comicbook or visit www.comicshoplocator.com
Not a subscriber to Marvel Digital Comics Unlimited yet? Join now!
Download SPIDER-WOMAN and ASTONISHING X-MEN Motion Comics now on iTunes! For more information on motion comics, visit the Marvel Motion Comics hub!"
Download episodes of "X-Men: Evolution", "Wolverine and the X-Men", "Fantastic Four: World's Greatest Heroes", and "The Super Hero Squad Show"
now on iTunes!

Check out the official Marvel Shop for your favorite Marvel Heroes!