"Iron Man 2" heated up the theaters this summer, and soon you can bring the blockbuster movie home with you as it hits Blu-ray and DVD on September 28! As we countdown to the big day, Marvel.com will bring you a look at some of the stories, characters and relationships that influenced the film, as well as a peek or two behind the curtain of the "Iron Man 2" Blu-ray itself!

 

By Ben Chabala

Every week we'll pick a handful of awesome comics from the thousands available through Marvel Digital Comics Unlimited. From creator spotlights to editor's picks and more, this'll be your spot to find something new and cool.
"Iron Man 2" blasts into stores on DVD and Blu-ray September 28 and to gear you up for the occasion we've got some of Shellhead's best tales to get you set. Watch as Tony Stark dons his Iron Man armor for the first time, becomes the head of S.H.I.E.L.D. and takes on the son of his archnemesis. All in a day's work for the Armored Avenger.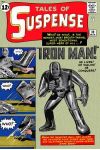 TALES OF SUSPENSE #39
Tony Stark, a man of industry, means, and millions, finds himself helpless and dying in the dense South Vietnamese jungles. A fatal misstep on an unseen land mine sent a deadly sharp shard of shrapnel directly into Stark's flesh and it now rests mere centimeters from his heart. Now, at the mercy of
Wong
Chu, the Red Guerilla
Tyrant
, the genius inventor has no choice but to build the fiend a weapon of mass destruction. With the help of his fellow prisoner, the brilliant Doctor Yinsen, Stark's weapon will be more amazing than any that have come before it. Bear witness to the birth of the Invincible Iron Man!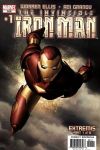 IRON MAN #1 (2004)
Something terrible lurks at the edges of Tony Stark's world. AÂ man named Mallen receives an injection that mutates him into something more than human. Meanwhile, someone stole a very dangerous, very volatile item from Futurepharm's special projects vault. Maya Hansen, an employee at Futurepharm and an old friend of Tony's, calls the Armored Avenger in for his personal opinion on the situation. Could these two events be related? What does this mean for Iron Man? "Extremis" starts here and you don't want to miss it!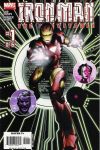 IRON MAN: THE INEVITABLE #1
Billionaire industrialist Tony Stark has spent years wining, dining, and partying among obscenely wealthy socialites at the world's most exotic locales. As Iron Man he's fought some of the most dangerous and powerful villains on the planet. Now, at the Abbot Foundation fundraiser, he comes face-to-face with one of his oldest enemies, albeit in a different identity. What does the Spymaster want with Iron Man?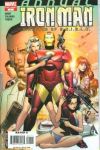 IRON MAN: DIRECTOR OF S.H.I.E.L.D. ANNUAL #1
Sure, Tony Stark might be the Director of S.H.I.E.L.D. and the Avenger known as Iron Man, but he's still got a taste for the finer things in life. Enter Madripoor, a very small and very corrupt country where everything and anything's legal if you can afford it. Only problem? The country's run by Viper, the leader of HYDRA, and S.H.I.E.L.D. would like to see a regime change. So Tony and a few of his best and most beautiful agents head to the land of "do as you please" to oust Viper and bring the hammer down on HYDRA. But it's never that easy is it?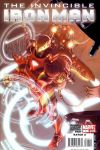 INVINCIBLE IRON MAN #1
Ezekiel Stane, the son of the Tony Stark's old enemy Obadiah Stane, wants nothing more than to destroy the Golden Avenger in every way possible: emotionally, financially and physically, he wants Tony in the ground for good. With the latest and greatest bioweapon technologies literally at his fingertips, Ezekial stands poised to push Iron Man to the brink. To make matters worse, in Africa a new organization calling itself Advanced Genocide Mechanics just massacred nearly a hundred people with a clean nuclear explosion. Can Tony outsmart Stane to save the day?
 
To find a comic shop near you, call 1-888-comicbook or visit www.comicshoplocator.com
Not a subscriber to Marvel Digital Comics Unlimited yet? Join now!
Download SPIDER-WOMAN and ASTONISHING X-MEN Motion Comics now on iTunes! For more information on motion comics, visit the Marvel Motion Comics hub!"
Download episodes of "X-Men: Evolution", "Wolverine and the X-Men", "Fantastic Four: World's Greatest Heroes", and "The Super Hero Squad Show"
 now on iTunes!

Check out the official Marvel Shop for your favorite Marvel Heroes!