By Tim Stevens
The relationship between the X-Men's angriest hero, Wolverine, and his oft-time teen protégé Jubilee has proved to be one of the most enduring and interesting in the Marvel Universe. Through triumph and tragedy, they always seemed to be able to count on one another. This January, that may all change in WOLVERINE & JUBILEE: CURSE OF THE MUTANTS #1.
The limited series from writer Kathryn Immonen and artist Phil Noto picks up immediately after the conflict between the mutants and the vampires. For Jubilee, however, there can be no relief.
"Jubilee is a delicious layer cake of anger and fury and guilt and doubt," Immonen lists. "She's a disaster, still a vampire, and back in the hands of the X-Men who are trying really hard to figure out what to do with her because no one is prepared to write her off, but they can't just turn her loose either."
The X-Men, and readers, may find this Jubilee nearly unrecognizable.
"Everything that was essentially Jubilee is kind of off the table; maybe," Immonen explains.   "The real question is what's left of Jubilee and is it enough for her to move forward. And directionally, is that towards or away from the X-Men?"
Despite the changes, Marvel's mutants still turn out in droves. Driven by both dedication to one of their own who they have seen grow in so many ways over the years and very aware of the hazard she now represents, they stand prepared to do whatever might be necessary.
"Pretty much everybody shows up for her," the writer divulges. "Jubilee is going to find herself surrounded by a lot of different people and groups, all of whom think they know what's best but not necessarily for her. They're trying to save one of their own whether she wants it or not."
Even Jubilee's former mentor may not be enough to bring her back from the abyss as their bond looks irrevocably changed.
"The relationship that we're exploring between Wolverine and Jubilee has the potential to be totally heart-breaking," acknowledges Immonen. "Jubilee's going to make some bad decisions and I think that's something Wolverine knows a thing or two about, but additionally, the real change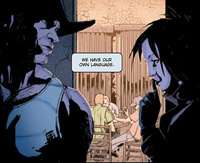 Wolverine & Jubilee
between them is, all things being equal, she's now going to outlive him. And that's not something either of them is prepared for."
To make matters worse, in turns out the X-Men have competition in the struggle for Jubilee's soul. Competition that, combined with the young mutant's own ambivalence about her current situation, could prove very dangerous indeed.
On that matter, Immonen will only tease "Jubilee is made an offer she can't refuse by a group of very enigmatic and very wealthy women and it opens the door to a life she has never even contemplated."
They may seem all very dire, but the writer assures readers that there will be a balance to the darkness in this story.
"It's not all chewing nails because Jubilee's also the most unlikely object of affection for a young X-Man who is either the most perfect or the most ill-suited match imaginable-depending on which one you ask,"  she reveals. "We've put together what I think is a really packed story that is gut-wrenching and glamorous."
For streaming video, live panel reports, photos, news and much more from New York Comic Con, visit our official NYCC 2010 hub page!
To find a comic shop near you, call 1-888-comicbook or visit www.comicshoplocator.com
Not a subscriber to Marvel Digital Comics Unlimited yet? Join now!
Download SPIDER-WOMAN and ASTONISHING X-MEN Motion Comics now on iTunes! For more information on motion comics, visit the Marvel Motion Comics hub!"
Download episodes of "X-Men: Evolution", "Wolverine and the X-Men", "Fantastic Four: World's Greatest Heroes", and "The Super Hero Squad Show"
now on iTunes!

Check out the official Marvel Shop for your favorite Marvel Heroes!