By Pierce Lydon
There is only one thing more difficult than fighting a super villain: fighting one that can't be seen!
Luckily, the Alliance for Consumer Education (ACE) and their hulking hero of healthiness, Ace Clean, together with help from The Association for Professionals in Infection Control & Epidemiology (APIC) and Marvel's own armored Avenger, Iron Man hit the streets on October 1 to take on the almost invisible menace known as germs!
Despite the rain, the campaign for cleanliness continued as Iron Man and Ace Clean took Times Square by storm with a frenzy of fun-filled activities aimed to celebrate stopgerms.org and inform kids about the importance of washing their hands as well as treat them to Ace Clean's own adventures and some of the extras on the "Iron Man 2" Blu-ray. Be sure to check out this survey as well!
"Cold and flu season has an impact on all segments of our society," said Kelly Semrau, the president of ACE. "Educating kids at an early age about simple steps they can take to stay healthy is imperative in breaking this cycle of disease."
According to the Center for Disease Control close to 22 million school days are lost to preventable diseases. To educate kids about how they can do their part in the fight against germs, ACE and APIC distributed over 90,000 comic book style book covers featuring Iron Man and Ace Clean to schools throughout the city. The book covers, complete with games and fun facts about disease prevention, encourage kids and parents alike to visit
stopgerms.org
to learn more.
"The Association for Professionals in Infection Control and Epidemiology is proud to partner with the Alliance for Consumer Education and Marvel Entertainment on this innovative educational campaign that reaches young people with important messages about hand hygiene," said Kathy Warye, the CEO of APIC. "Studies have shown that good hand hygiene cuts the risk of getting a respiratory illness like a cold by about a quarter. So it's clear we can keep our kids healthy and in school by instilling healthy habits at an early age."
In addition to holding a live handwashing demonstration, ACE and APIC volunteers handed out hundreds of Scrubbing Bubbles Automatic Shower Cleaners as well as other cleanliness promoting products to an incredibly eager Times Square crowd.
Click here to watch a video of Iron Man and Ace Clean right in the thick of the action!
ACE's mission on this day was "to promote responsible and beneficial use of products to ensure a safer, healthier and cleaner environment in homes, businesses and the community" and with the help of Marvel and APIC they did!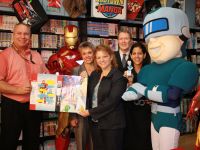 Left to right, Mitch Dane, Marvel, Iron Man, Kathy Warye, APIC, Jill Cook, ASCA, Chris Cathcart, CSPA, Colleen Creighton, ACE, and Ace Clean at Midtown Comics
School teachers were also encouraged to complete
this survey
about the campaign. This data can help ACE and APIC gauge the whether or not they have helped turn the tide in the crusade for clean living.
"As a dad, I am also aware of the importance of keeping your family healthy during cold and flu season," said Chris Cathcart, president of the Consumer Specialty Products Association and secretary of ACE. "It's amazing how fast germs can spread throughout classrooms and into homes, so much of which could be prevented by simply washing your hands."
For more information about Ace Clean, ACE and APIC, visit stopgerms.org.
To find a comic shop near you, call 1-888-comicbook or visit www.comicshoplocator.com
Not a subscriber to Marvel Digital Comics Unlimited yet? Join now!
Download SPIDER-WOMAN and ASTONISHING X-MEN Motion Comics now on iTunes! For more information on motion comics, visit the Marvel Motion Comics hub!"
Download episodes of "X-Men: Evolution", "Wolverine and the X-Men", "Fantastic Four: World's Greatest Heroes", and "The Super Hero Squad Show"
now on iTunes!

Check out the official Marvel Shop for your favorite Marvel Heroes!