By Tim Stevens
Mercedes "Misty" Knight presents as an adult woman of above average physical fitness. Due to an injury sustained while working with the NYPD, she has a prosthetic limb, her right arm. However, the arm retains full mobility and at least moderate sensation and thus does not interfere with her day-to-day life. She also insists that it is not something that bothers her or, in fact, something she spends much time thinking about at all.
In session, the client appears to be someone of great strength and resolve. However, she does not come across as resistant to the therapeutic process. She holds back her emotions, but will not deny that she is experiencing them. She does seem to be ready to do "the work" that therapy requires.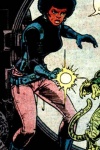 As mentioned above, Knight was once a police officer in New York City until the accident. Following that event, she resigned rather than go on restricted duty and eventually had her limb replaced by one created by one of Anthony Stark's various companies. Even though she did resign from formal law enforcement, she has continued to remain active in the field in a number of ways; she describes her career as "part bail bondswoman, part private detective." Additionally, she has been often pulled into the world of street vigilantes and costumed adventurers, including being roommates with a prominent member of the mutant right group the X-Men and dating Iron Fist on and off for several years. This unique role has placed her in danger several times and found her enmeshed in several prominent events in the past few years including the media labeled Civil War and culminating in the so-called Shadowland incident that consumed Hell's Kitchen and saw Daredevil apparently disgraced and driven out of his role as costumed hero.
In the wake of these events, Knight finds herself questioning her own moral code and the code of those around her. She reports being disillusioned by the choices she has seen people she respected and trusted make in times of crisis and includes herself on that list. She refuses to name names specifically, citing that, regardless of client confidentiality, people in her way of life often get in trouble for being open about identities and such. It does not, however, seem to be a leap to imagine that Daredevil and a police detective exposed as corrupt during Shadowland were both on her mind.
Additionally, the client reports feeling a bit rudderless and adrift; for the first time in years, she has no business, clients, or specific goal in mind. She is anxious to start fresh, but also hesitant because of what she has witnessed in herself and others. At times, she describes feeling as though her very actions were being directed by someone else, a force outside herself. This is not an uncommon experience for someone who feels they have lost their purpose. Additionally, Knight indicates that she does mean this metaphorically, not literally, and thus no psychosis is likely.

HEROES FOR HIRE #4 cover by Doug Braithwaite
The treatment plan at this time is focused on cognitive restructuring. The client has displayed a healthy sense of humor and irreverence, so this writer has felt that Rational Emotive Behavior Therapy (REBT) would be a smart approach for her. So far, Knight has appeared responsive to it and has followed through on her homework assignments. It is the contention of this writer that the client must begin to accept that humans, including herself, are unable to reach perfection and therefore are mistake-prone. Additionally, these mistakes do not indicate some flaw in the person beyond simply being a part of humanity. If she can accept these facts, she should become "unstuck" as well as being better able to evaluate what "mistakes" are temporary errors in decision making and what ones are indicative of a person's overall character.
Mercedes Knight's next appointment is scheduled with Doctors Dan Abnett, Andy Lanning, and Brad Walker on January 12. Details of the session will be available for review that day in file HEROES FOR HIRE #2.
Psy D. Candidate Tim Stevens, MA is a Practicum Trainee at a Federal Correctional Institute and a Dialectical Behavior Therapy Consultant.