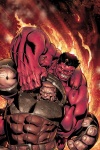 Upcoming HULK cover by Ed McGuinness
Yesterday we spoke to writer Jeff Parker about the upcoming events that will bring THUNDERBOLTS into the "Scorched Earth" storyline begun in the pages of HULK even as artist Ed McGuinness makes a very special return to that title with issue #30 for some off-the-wall action involving both Hulks, Xemnu the Titan, Woodgod, The Impossible Man and more.

Get a peek ahead at McGuinness work on HULK #30 as well as Kev Walker's pages for THUNDERBOLTS #153, where Hyperion joins the team!

Still can't get enough McGuinness Hulk? No worries, we've got more!

HULK #30
Written by JEFF PARKER
Pencils & Cover by ED McGUINNESS
THE ORIGINAL RED HULK ARTIST RETURNS!!! Ed McGuiness draws a special (and especially insane) issue of HULK! A classic Hulk enemy returns, and can only be defeated by...THE
COMPOUND HULK! Guest-starring XEMNU, THE IMPOSSIBLE MAN and WOODGOD (yes, Woodgod)!
40 PGS./Rated T+…$3.99

THUNDERBOLTS #153
Written by JEFF PARKER
Penciled by KEV WALKER
Cover by GREG LAND HULK's
"Scorched Earth" program hits the T-Bolts – forcing the newest addition to the team to reveal their true colors! It looks like one prisoner will be walking away with no nanite controls and no chance of recapture...unless Juggernaut has something to say about it! It's monsters, mayhem and more wicked twists in the series that ComicBookResources.com crowns "a must-read book each month."
32 PGS./Rated T+ …$2.99

Both HULK #30 and THUNDERBOLTS #153 hit stores on February 16!