X-Men fans unite! The X-MEN #7 Party is upon us!
With the historic release of Victor Gischler and Chris Bachalo's X-MEN #7, featuring an awe-inspiring team-up between the X-Men and Spider-Man, to comic stores everywhere, it's time to party--X-Men style!

Participating retailers will be celebrating the release of X-MEN #7 Party with free stuff, exclusive variants and so much more!

Here's some of the cool stuff to look out for when you get to your participating local comic shop:
- Free Exclusive Marko Djurdjevic Limited Edition Print!
- Limited Edition Variants for sale from artists such as Terry Dodson, Chris Bachalo, and more!

Download the full list of X-MEN #7 Party participating retailers here!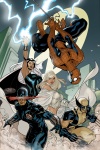 X-MEN #1
COVER BY: Terry Dodson
WRITER: Victor Gischler
PENCILS: Chris Bachalo

THE STORY:"PROTECT AND SERVE," PART ONE It's a new age for the X-Men. Cyclops and company have declared it a time to be heroes. Wherever a citizen is in need, there's an X-Man on the job. But strange rumors have come to the attention of the X-Men, and Storm and her team are off to New York City to investigate. What do they find in the dank sewers beneath Manhattan? Only New York's favorite wall-crawler has the answers. Rated T+

PRICE: 3.99
IN STORES: January 26, 2011