By TJ Dietsch
Forget about Eddie Brock and Mac Gargan, because there's a new Venom in town and he's got a familiar face: Flash Thompson.
The bully-turned-soldier not only gets the symbiote but also a brand new mission kicking off in AMAZING SPIDER-MAN #654.1 on February 9 and then carrying over into VENOM #1, which hits on March 2 by writer Rick Remender and artist Tony Moore. The U.S. government weaponizes the Venom suit, arming Thompson with it and sending the pair after some of the bigger threats in the Marvel Universe.
The character's journey from tooth-baring psychopath to Black Ops operative came about with input from Remender, editor Steve Wacker and AMAZING SPIDER-MAN writer Dan Slott.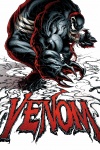 VENOM #1 cover by Joe Quesada
 "My problem with Venom as a lead character was always that he's such a bad guy that it's hard to craft stories around him, at least [ones] that interest me," Wacker said on a conference call held for members of the press. "It's difficult to make a hero out of him because he's eating people in half of our books. I think as we built up the new Spidey stuff with Dan, what we realized is that Venom was a character that people gravitated towards and like, but I could never quite wrap my head around the 'Lethal Protector' [aspect] of it all. It's not 1993 anymore and we need to change things up a little bit."
Noting that Marc Guggenheim had done some interesting things with the character of Flash Thompson during his turn on AMAZING SPIDER-MAN, Wacker mentioned the name got thrown around at meetings when trying to figure out who could fill the new Venom position.
"We had the sort of basic idea that Flash would be a good host for the symbiote because it gave [him] something to do and it gets Venom back out there and puts him in a somehow heroic position because Flash is a soldier," the editor continued. "And from there Dan and Rick went off; like a week later I had a pitch from these guys that I was pretty much ready to go."
In addition to nailing down the man beneath the mask, Remender, Wacker and Slott also spent a great deal of time solidifying the specifics of the character's look, mission and the high concept. Following orders given by the United States armed forces, Flash will not only have the symbiote at his disposal, but a high tech arsenal based on real world weaponry with some more complex gadgets mixed in as well. 
"Even though you've got this alien outfit that's capable of doing so many things. having on top of that access to helicarriers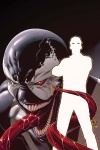 VENOM #1 variant cover by Paulo Siqueira

seems like it gives him too much," Remender noted in regards to why the new Venom will answer to the military rather than a S.H.I.E.L.D.-type organization. "Instead he's got advanced technology [and] he's got the armed forces behind him. This is their program to deal with international threats."  
Speaking of threats, the series does not disappoint as it hops from a war torn Eastern European nation in the initial issue where Venom takes on a brand new Jack O'Lantern who Remender promised will be "the biggest, coolest new villain in the Marvel Universe" to Thompson being chased by Kraven after a few days in the Savage Land. But all that comes as small potatoes compared to the larger, looming threat.
"The first arc deals with a new boss on the scene who isn't focused on New York or Chicago, he's an international crime lord," Remender revealed. "He's someone we've known in the past, completely re-imagined. His motives are just cash money. He's an arms dealer. In the first arc he's discovered a giant vein of Arctic Vibranium that exists in the Savage Land and has weaponized it. He has a scientist who figured out how to turn it into bullets. Once [it is] distributed you can't put that milk back in the carton. The Arctic Vibranium for those unaware is really cool and this is something that Dan Slott brought to my attention when I was trying to cook up some of the high concept. [It] can melt through any metal. It's been in really scarce supply in the Marvel Universe and rightly so."
The mysterious villain's plan involves selling plastic guns with Arctic Vibranium bullets to everyone from Doctor Doom to the smallest terrorist cell in an effort to put weapons that can kill any super hero in the hands of the world's deranged killers.
"Once that's done it doesn't matter if you have the Avengers or every super hero in the world because you've just armed the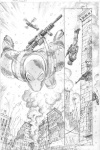 VENOM #1 pencil art by Tony Moore
planet with these unstoppable bullets and at that point you descend into chaos," said Remender. "I think people will be surprised with how high [the] stakes actually get pushed and the potential distribution of this Arctic Vibranium will have some lasting effects on the Marvel Universe."
Remender and Wacker promise the book will keep up a break-neck pace as it travels across the Marvel Universe, though not to the detriment of Thompson as a character.
"The Kraven sequence is going to be amazing and a big character developer in terms of how [Venom] deals with him," Remender promised. "As we're developing this and getting into the story, one thing we've fallen in love with is the fast paced action adventure aspect of it where you have very few moments to catch your breath and we find ways to move along the plot as well as the character beats through action. In the second [issue], we open with Venom sprinting through the Savage Land with spears and darts covering him and he's terribly drugged and beaten up [being chased by] Kraven the Hunter on a dinosaur. It's this insane 20-page explosion of action between Kraven and Venom [where] we found three different ways to define Flash by the decisions he has to make. Seeing Venom and Kraven go at it in the Savage Land by Tony Moore is going to make some people pretty excited."
Also sure to excite will be the huge stakes that Flash's missions as Venom will hold for the safety of the world. Being that he's a dangerous and somewhat unknown quantity, those in charge of the operations only pull the trigger on sending Venom in when no other methods will work. Plus, the organization has taken some precautions when it comes to the suit and laid down a few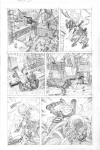 VENOM #1 pencil art by Tony Moore
rules when it comes to how often it can be worn for.
"You can only wear it for a couple of days at a time before you have to go back to base and have it removed because it starts bonding with your psyche," Remender explained. "You've got a ticking time bomb in character as well as one plot-wise because of Flash. We all know Flash as the braggart bully jock who grew into a war hero [and] gave his legs to serve his country. He's a true patriot and a very interesting character. But you've also got somebody with a temper, and when you have a temper and you're wearing the Venom symbiote, it's a bad mix. He's got a secondary thing to watch out for in that he can't let his temper get out of control or [the symbiote] begins to take over. If it takes over, then the teeth and the tongue come out and he could start killing people indiscriminately with no control over what he's doing. He's willing to take a life, but we're going to handle that in the smartest way possible where he's not going to be mowing down a room full of people who are faceless villains unless it's been established that these people are genocidal or we've seen them do something that earns them that fate. Those are the hard resolutions; the murdering he might have to do will come at moments when you completely didn't expect it unless he loses control of the suit. So it adds a lot of different dimensions and tension."
Wacker went on to note that, while the series will focus on Flash in the here and now, the limit as to how many times a person can wear the suit will cause problems for him in his home life.
"It's a 20 mission limit," Remender stated. "In addition to there being a time limit they don't want anyone to have worn this thing more than 20 times so you've also got a character in Flash who became disabled serving his country, and now he's no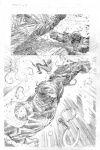 VENOM #1 pencil art by Tony Moore
longer wheelchair bound; he's soaring through the city or bounding through the Savage Land. There's a lot to be explored and a lot of meat on the bone in terms of how Flash is going to react to that."
While the writer and editor remained tight-lipped about the super hero community's reaction to the government's use of Venom as a weapon in the fight for global safety, they did note that Spider-Man's feelings will have ramifications both in Venom's own book and also in a Spidey event this summer. Flash will also be surrounded by familiar faces in the form of his pal Peter Parker and girlfriend Betty Brant.
"We have a long term plan and have talked about a lot of conceptual ideas with Dan Slott and I've even gotten notes galore for a lot of different potentialities," said Remender. "I think everybody knows Flash, but it's my job to make you really care about him as a human being and this is [his] big moment. He's a classic Marvel character and we've got an opportunity to really hone in and focus on him and Betty Brant and their tumultuous relationship in the past and where it is now. Flash is the son of an alcoholic abusive cop who became a soldier [and] willingly gave his legs in service of his country to save another solider. He's a hero and a great character. As long as he's the guy wearing the suit, it's definitely 50/50. We need to define the suit and make it interesting but Flash is the character we're zeroing in on."
Flash's relationships with Betty and Peter will be pushed to the limits as neither of them will be aware of his new role as Venom. Wacker and Remender both noted how the balance between Flash's work and home lives will also play a large part in the ongoing story.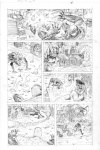 VENOM #1 pencil art by Tony Moore
"There's an aspect of super hero comics that's sort of hard to explore without getting too down the dark rabbit hole; it's sort of like 'The Deer Hunter,'" Wacker contended. "You're training to do these things where you're risking your life all the time and you've seen things and fought against all these villains, then to go home to your private life and compartmentalize it. Flash has done more than most of the other human people in our comic books. So having to compartmentalize the different aspects of his life proves somewhat difficult."
But VENOM won't be all doom and gloom. In addition to the huge battles, Remender also promises to mix in a good deal of spy elements that will make good use of the suit's abilities:
"When we get into the espionage, 007 aspect of it, Flash can look like a dapper gentleman in a tuxedo, but his finger can turn into a prick and he can inject someone with any number of serums he's been given. He'll have some cool weaponry and toys. The morphing aspect is definitely going to play into some of the espionage stuff later on when he's infiltrating a casino during Latveria's casino night or whatever. He's going to be in a situation where that comes in handy because he'll be in disguise. There's also the fact that the suit has some sort of dampening on things like Spider-Man's spider sense, sort of a natural camouflage to detection. That's another thing that lends itself to the high concept."
Attempting to appeal to fans of the classic, iconic Venom character while also moving him into more modern times and playing with some fresh ideas, Remender and Wacker hope to bring a new series to life that takes advantage of Flash's less than perfect past, Venom's abilities and the thrill of espionage all on the backdrop of the Marvel Universe. With Thompson at the center of the action for now, Wacker ends the talk with a very interesting question that will surely be on fans' minds as they read through these issues:
"What's interesting to me is that Flash, Spider-Man's biggest fan in the entire world, will slowly find himself becoming what could be Spider-Man's greatest enemy in the world."