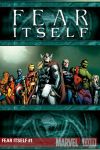 FEAR ITSELF #1 cover by Stuart Immonen
In 2011, the heroes of the Marvel Universe will confront their greatest fears, and you'll want to follow every second!

Fear Itself will forever change the landscape of the Avengers, the X-Men, The Hulk and all your other favorite characters, so if you love Marvel, you need to stay clued in. We're here to help with the Fear Itself hub page.

The Fear Itself hub page will update throughout the event, providing the latest news, images and videos, as while as a complete list of comics tying in to the story and plenty of other goodies. It's the best and easiest way to keep up to date!

So bookmark the Fear Itself hub page and check back frequently to make sure you're up to speed!

Fear strikes the Marvel Universe in 2011, but with the Fear Itself hub page, you've got nothing to be afraid of!