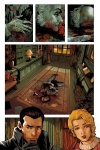 RUSE #1 preview art by Mirco Pierfederici
By Jim Beard
This March, writer Mark Waid takes up the reins of RUSE and rushes headlong into a four-issue limited series of gaslights, gadgets—and gargoyles?
Set everything you know—or think you know—about Victorian-era detective fiction aside; RUSE cuts its own path through the genre and strives to create a few twists of its own along the way.
"Two things are happening simultaneously," says Waid of the series' story. "First, a bizarre gambling fever is sweeping the well-to-do of the city of Partington. Someone's drawing the leaders of society into an unforgiving web of sin, manipulating them towards some mysterious greater goal. Simon and Emma have to figure out the who and the why of it while at the same time trying to solve a seemingly unrelated series of attacks on all of Simon's past partners and associates. Danger lurks around every page-turn, and suspense is high."
The "Simon and Emma" he refers to more properly answer to the names Simon Archard and Emma Bishop, the greatest private investigation duo this side of Holmes and Watson—that is, of course, if Watson wore skirts. They exist in a wondrous world not too far from our own of a hundred or more years ago, save for the magic that permeates the edges. Some might call it "steampunk," an offshoot of the science fiction sub-genre known as "cyberpunk," popularized by author William Gibson.
"It's almost proto-steampunk, owing more to H.G. Wells and to the old TV series 'The Wild, Wild West' than to Gibson," Waid claims of RUSE. "Because there's not much fiction to the science-fiction of it all; that seems unfair in a mystery series, to allow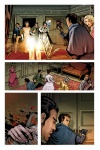 RUSE #1 preview art by Mirco Pierfederici
for too much impossibility."
The literary inspirations of RUSE run deep, with a passing nod not only to the works of Sir Arthur Conan Doyle, but to many other examples of groundbreaking and visionary fiction through the decades.
"An eclectic assortment of literature that's for sure," notes Waid of his references. "When I sit down to write RUSE, I'm influenced by the detective works of Jacques Futrelle and Ellery Queen, two of my favorite impossible-crime novelists. I'm also inspired by the rapid-fire dialogue of Glenn Gordon Caron, creator of 'Moonlighting,' and oddly enough, by the bizarreness of 'The X-Files' and the adventurous spirit and ahead-of-its-time technology of the Fantastic Four."
Above and beyond the mystery and intrigue, the fear and the fantasy of RUSE, one of the most incredible facets of this gem rests in the form of Emma Bishop. Waid's particularly mindful of presenting a sophisticated lady of the period in Archard's most-capable partner, but also an exciting female character who's not afraid to jump into the fray.
"I watch her language and her phrasing like a hawk, but I prioritize her fiery spirit above all else," he states. "Emma can and does play the 'demure, proper female' role when necessary, but it rankles her."
With magic playing a role in RUSE, it's fortunate the book's resident illustrator, the spellbinding Mirco Pierfederici, know how to weave a bit of his own.
"He's a joy to work with," says Waid of his co-conspirator. "Mirco's very good at capturing the period, and his storytelling is exemplary. It's clear he's enjoying the challenge!"
RUSE #1 comes to you on March 2!