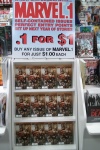 Marvel Point One display at Collector's Paradise
By Chris Arrant
What do they always say about making a good first impression? Well, Marvel's taking that advice and putting its best foot forward to new readers with the Marvel Point One initiative.
Marvel Point One will release 11 titles over the course of three months—one per week from February through April—targeted as ideal starting points for new and lapsed readers as well as faithful fans. These issues, priced at $2.99, will feature stand-alone stories bringing readers up to speed with the title as well as laying the groundwork for the year to come. Last week's INVINCIBLE IRON MAN #500.1 gave the first real taste of what Marvel has planned. In this special issue, creative team Matt Fraction and Salvador Larroca set out the next chapter in Tony Stark's life and future.
AMAZING SPIDER-MAN #654.1 and WOLVERINE #5.1 will finish out February; A quintet of titles for March will feature CAPTAIN AMERICA #615.1, DEADPOOL #32.1, HULK #30.1, THOR #620.1 and UNCANNY X-FORCE #5.1; finally, April brings AVENGERS #12.1, SECRET AVENGERS #11.1 and UNCANNY X-MEN #534.1.
While not the first time Marvel has offered "starting point" issues in various ongoing series, Marvel Point One will be the largest, orchestrated event of this type in company history. Comic book retailers have been quick to take advantage of the initiative with several different retail strategies.
"We are planning a big push for these issues," notes Edward Greenberg of Collector's Paradise in Los Angeles county. "We're calling it [our] '.1 for $1' promotion. With Marvel's incentives to order these books in larger numbers, we were able to get a lot of copies at a much lower price, and will pass the discount on to all our customers.  All Point One issues are $1.00 at our store, and will also be 100% returnable."
In addition to brick-and-mortar efforts, Collector's Paradise will use Marvel Point One to spearhead a social marketing campaign, and they're not alone.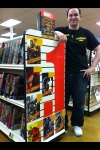 Marvel Point One display at Atomic Comics

"I am very excited about being able to have high quality books to hand sell to possible new readers," relays Mike Malve of the Atomic Comics chain in Phoenix, Arizona. "We'll be highlighting it in our e-mail blasts, the web site and social media. We'll also have end caps at all locations."
Marvel Point One uses a three-pronged approach to 'initiate' new readers: from a story standpoint with the stand-alone tales, to a retailer standpoint with discounted wholesale prices, and from a marketing standpoint with expanded publicity efforts, such as a recent article in Maxim magazine. But retailers such as Greenberg know that the program's success rests in large part on his and other retailers' shoulders.
"I believe the Point One concept has a huge upside potential, if promoted properly by the individual retailers," he says. "Customers' reaction in each individual store will depend largely on the attitude of the person presenting the books to them.  The foundation of the concept is very well thought out, and Marvel has given us every single incentive to succeed here, with a minimal effort."
Greenberg sees these Marvel Point One issues as not only a short-term spike but a potential opportunity for long-term sales:
"The more people who don't already read these books [that] try them out, the higher the sales of subsequent issues will go  That's my job and it's in my interest to give it 100%. I know very well that an increase in my store's sales will not really move the needle on Marvel's sales, which makes me even more conscious of who has the most to gain from this promotion, namely myself."
For more on Marvel Point One, check out the official hub site!