By Tim Stevens
T'Challa presents as an adult man in excellent physical condition. The former ruler of Wakanda, he now lives in the Hell's Kitchen neighborhood of New York City. Although he is living under the alias of "Mr. Okonkwo," a Congolese immigrant who has established a restaurant in the neighborhood, he emphasized that he did not wish to maintain the ruse to this writer. Additionally, he insisted on being treated as a typical client, stressing that his former life as Wakandan royalty should not influence how this writer approaches the therapeutic relationship.
In addition to running a restaurant, T'Challa has assumed the role of Hell's Kitchen's costumed protector. This, in the past, has been a station unofficially filled by the street vigilante Daredevil, but the client asserts that he has taken on the responsibility at the behest of Daredevil. He would not explain specifically why the so-called "Man Without Fear" had apparently passed this role on, only that Daredevil had to "take a journey to find to himself." Although the client did not use the exact same terminology in describing his reasons for moving to Hell's Kitchen or making this commitment, he made statements that seemed to allude to their motivations being similar.
In general, the client is thoughtful and quiet in session. While he seems open to the therapeutic process, he often presents as uncomfortable. He has confirmed that this is an unusual experience for him, but that he believes he needs to explore all avenues of self improvement at this time. As such, he sometimes vacillates between being resistant to answering this writer's questions, being apologetic about this resistance, and revisiting the questions to provide answers. This makes the process a bit slower than typical, but as there is progress, this is not something that this writer is overly concerned with.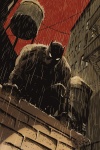 The client appears to be struggling with identity issues, in terms of transitioning from being king to disposed ruler, native son to immigrant, open costumed adventurer to a man living under an alias, and so on. This is not an identity crisis in terms of him being un-integrated or suffering from a dissociative disorder, but rather one of purpose. Being a vigilante in Hell's Kitchen appears to be a challenge he sought out to both give himself to do, in the simplest sense, but also as an act of redemption for what he views as personal shortcomings.
The client clearly has an internal locus of control and therefore bears the burden of losing his crown and the current suffering of the Wakandan nation and people heavily. Additionally, the fact that being the Black Panther is a hereditary honor often increases the client's feelings of having disappointed or let down others. While T'Challa heretofore has refused to discuss these feelings very far in-depth, he has at least allowed that they are interpretations of some accuracy.
With this in mind, this writer is focusing on altering the client's negative automatic thoughts by introducing healthier cognitions that allow for T'Challa to have not been the strategic equal to someone like Doctor Doom in this one occasion but to still be a strong and competent person. Additionally, these healthier, more accurate cognitions should help the client to acknowledge that the state of his country and his rule may be but a temporary situation and there always exists the chance to fix that which is perceived as an "error" or "mistake." Finally, they should alleviate much of his guilt, allowing him to make choices for himself with a clearer head. It is hypothesized that when T'Challa is able to do this, he will become more comfortable with evolving his perspective on himself and be more accepting of his identity at that, whatever it may be, and more easily able to find purpose.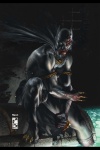 T'Challa's next appointments are scheduled for February 9 and March 30 with Doctors David Liss and Francesco Fracavilla. Details of these sessions can be found in the files marked BLACK PANTER: MAN WITHOUT FEAR #515 and #516.
Psy D. Candidate Tim Stevens, MA is a Practicum Trainee at a Federal Correctional Institute and a Dialectical Behavior Therapy Consultant who has experience working with individuals struggling with self blame and feelings of identity loss.