ONSLAUGHT UNLEASHED #1 cover by Humberto Ramos
By Ben Morse
This week, Sean McKeever joins a small group of creators who have charted the course of destruction for one of Marvel's all-time greatest threats when he kicks off the ONSLAUGHT UNLEASHED limited series with Filipe Andrade.
Along with continuing the story of Rikki "Nomad" Barnes that McKeever picked up the baton on a few years ago, ONSLAUGHT UNLEASHED will also pick up threads from the writer's YOUNG ALLIES series, introduce the Secret Avengers into the mix, and of course feature the return of a force that once decimated Earth's Mightiest Heroes. Can this rag tag group stand any sort of chance where so many more powerful fell before the might of Onslaught?
McKeever discusses that conundrum along with Rikki's growth, the Allies' status, how the Avengers fit in and more.
Marvel.com: Set up the situation going into ONSLAUGHT UNLEASHED.
Sean McKeever: When we last saw Onslaught, Rikki Barnes had knocked him into the Negative Zone, sacrificing her life to save her world—or so she thought. Instead of dying, she wound up on the mainstream Marvel Earth we all know and love, where she took on the identity of Nomad and continued to fight the good fight in a world that wasn't her own.
However, what we learn in ONSLAUGHT UNLEASHED is that Onslaught is not so helpless in his exile, and he has plans for Rikki Barnes.
Marvel.com: How does this series pick up from the work you did on YOUNG ALLIES and what dangling threads from there will you be picking up on here?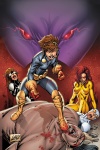 ONSLAUGHT UNLEASHED #1 variant cover by Rob Liefeld

Sean McKeever: This is in many ways a continuation of the character arcs set up in YOUNG ALLIES, but it's also a different sort of story. It's a genuine co-starring book between them and the Secret Avengers, and tonally it's closer to the latter of the two.
Marvel.com: In terms of the Young Allies, what sort of interpersonal relationships have come to the fore and will play out as key in this series?

Sean McKeever: We'll definitely see how everyone's been affected by Nomad during her time in their world; not just the Young Allies, but Steve Rogers and Black Widow, too. We'll also look a bit deeper at the growing friendship between Firestar and Gravity.
Marvel.com: How do the Young Allies view their partnership and how does this impact their effectiveness as a team?

Sean McKeever: Well, they've never really thought of themselves as a team, so they lack that sort of cohesiveness you traditionally see from a "super hero team." They have varying degrees of teamwork experience and that keeps things interesting.
Marvel.com: You've had a few years with Rikki Barnes, aka Nomad, now; what have you learned about the character from working on her? How is she different now than she was back when we first met her in Heroes Reborn or even from when you first picked her up?

Sean McKeever: Living in this world that's so much like her own and yet so different, it can't help but change her. I think she's become far more introspective a character, while still retaining the youthful bombast she's always had. In the face of adversity, she still finds a way to be positive.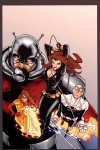 ONSLAUGHT UNLEASHED #2 cover by Humberto Ramos
Marvel.com: How will Rikki's past catch up with her in this story?

Sean McKeever: In a major, major way. That's as much as I'm willing to say.
Marvel.com: What's it like integrating the Secret Avengers into the story? How does their presence alter the tenor of a Young Allies adventure?

Sean McKeever: Despite the YOUNG ALLIES book having had some pretty dark themes, there was room for lighter moments. Now they're thrown into the Secret Avengers' world, where threats feel far more real and stakes higher. Probably my favorite aspect is throwing these characters together, like having Gravity and Moon Knight working together.
Marvel.com: Do you approach writing the Secret Avengers perhaps differently from a more traditional Avengers team?

Sean McKeever: Oh, definitely. The Secret Avengers operate under a more covert military style. They're not the cavalry; they're the saboteurs.
Marvel.com: What's the Secret Avengers' view of the Young Allies?

Sean McKeever: You will definitely see front-and-center Steve's concern about Rikki being involved in something this dangerous, and that boils over into the overall sense the more seasoned Secret Avengers have about these young heroes possibly getting in way over their heads.
Marvel.com: Of the Secret Avengers, who are you having the most fun writing?

Sean McKeever: Probably Moon Knight, because I've always dug him. And, really, [SECRET AVENGERS writer] Ed Brubaker's done such a wonderful job with these characters that they're already so three-dimensional to me.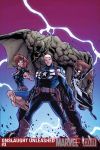 ONSLAUGHT UNLEASHED #3 cover by Humberto Ramos
Marvel.com: What position as far as fandom or getting your career started were you in when Onslaught was introduced back in the 90's? How did you view the character then?

Sean McKeever: I was just ending a near-decade run of selling new comics in my parents' hardware store—seriously. I was honestly a bit burned out on Marvel at the time because of the sheer number of titles and imprints and sub-imprints put out back then, but the big ONSLAUGHT: MARVEL UNIVERSE book leading into Heroes Reborn was just too epic for me to pass up.
I thought of Onslaught as a real, huge threat but I never had a sense of realistic, frightening menace from him. He was more like a force of nature than anything.
Marvel.com: Now that you're writing Onslaught, how has that view changed?
Sean McKeever: I think there's a lot about Onslaught that could be explored, and I wish that I had more than four issues to do it in!
Marvel.com: What is Onslaught's role in this story? How does his past with Rikki shape that role?
Sean McKeever: He wants to come back to the world he was "born" in, and he's using Rikki as a pawn to do just that. There's a connection between them that's larger than anyone may suspect, and some serious repercussions coming out of the revelation to come.
Marvel.com: Onslaught has only made a handful of appearances since his creation and it always takes quite the effort and sacrifice to turn him back; how do you write a character like that and make sure he stands apart from your average bad guy?

Nomad
Sean McKeever: You find what it is that he wants at his core, and right now, for Onslaught, that's an animalistic need to survive. Of course, he still has all those crazy views about killing mutants and humans because they will never cease to war with one another, but first things first!
Marvel.com: What else can you say about what's ahead in this series?
Sean McKeever: Dark overtones, meaningful character interactions, a couple big surprises and a bunch of creepy child soldiers!
Sean McKeever will be signing ONSLAUGHT UNLEASHED #1 as well as the YOUNG ALLIES trade paperback at Laughing Ogre Comics in Columbus, Ohio from 5:00-7:00 PM