By Ben Morse
In 2011, terror overtakes the Marvel Universe as Fear Itself envelops its heroes and villains.
To delve deeper into what lies at the root of this climactic event, each week in Fear Files we will speak with Marvel's biggest creators about exactly what frightens the premiere heroes and villains whose lives they guide.
This week, we speak to AVENGERS ACADEMY and FEAR ITSELF: THE HOME FRONT writer about Speedball, a featured player in both those series and a former New Warrior carrying perhaps more than his share of survivor's guilt…
What is Speedball most afraid of?
Christos Gage: Speedball is equally afraid that what happened at Stamford will happen again, and that he will never be able to atone for [the events] he views as his fault.
How does this affect and inform the way he lives his life and does his job?
Christos Gage: Well, right now it very much affects his job itself: he's teaching the kids at Avengers Academy to use their powers responsibly, trying to make sure they don't make the same mistakes he did. As for how he lives his life, we'll see in HOME FRONT that he is going back to Stamford, disguised as a civilian, and performing charity work as a way to give back to the community he feels he hurt. 
How does he deal with his fear and manage it on a day-to-day basis?
Christos Gage: Mostly by trying to spend his time doing positive things and with the support of his friends. But whether he has other ways of dealing with it remains to be seen—as does how effective they are.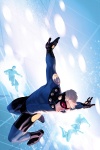 FEAR ITSELF: THE HOME FRONT cover #2 by Marko Djurdjevic
Has he made any progress with these fears since the inciting event occurred? Are things better or worse for him now than they were in the immediate aftermath?
Christos Gage: Things are better. He's made a lot of progress. He's no longer focused on punishing himself. He knows he can't undo what happened, so he's focused on making a positive difference going forward. Training others to avoid the same mistakes; helping those who need it. It's no longer about what happened in the past but what will happen in the future. But that's not to say he's forgotten. The Stamford disaster still looms large in his life and probably always will. He still feels tremendous guilt over it, as we will see.
In Speedball's mind, what is the most frightening scenario he can imagine?
Christos Gage: Something like Stamford happening again—and it being his fault. Because he didn't anticipate something he should have, or he didn't act in time.
Will Speedball's fears come true? Find out in Fear Itself and join us next week for another installment of Fear Files.
For more information on Fear Itself, visit the official event page