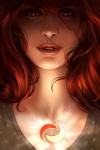 SIGIL #1 cover
By Jim Beard
SIGIL encompasses entire worlds, even time itself, but at its core stands a lone human being on whose shoulders rests power beyond imagination. Samantha Rey's her name and the strange symbol on her chest means more than just a game—it means war.
"I like her because she's someone whose strengths are hidden even from herself," says SIGIL writer Mike Carey of Sam. "She thinks of herself as a screw-up, because her life has sort of descended into a series of crises that she seems to be unable to cope with. But she has resources she's never used, and we see her finding this core of courage and ingenuity and generosity.
"I had one particular woman I know in mind when I wrote her, but I think there are a lot of people like that; people who slog along from day to day and have no idea that the weight they're carrying would squash someone else."
Young Sam, all of 16-years-old, will need every ounce of strength to carry the Sigil; a brand of sorts, a mark that Carey says "is a whole lot of things."
"First and foremost, it's a uniform. There's a war which has been going on for millennia, and the [theater] of war is pretty much the whole of time and space. The Sigil is the mark that identifies the soldiers in that war. But it's also a weapon, a suit of armor, a communications device, and—well, some other things, that we don't get to find out about just yet."
SIGIL #1, out March 9, teams the writer with artist Leonard Kirk. If you've already gotten a hint of the absolute action and adventure the book promises, let us assure you that Kirk's the man for Carey's plan: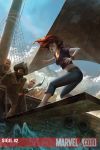 SIGIL #2 cover
"[Leonard provides] wonderfully vivid realizations of the characters, meticulous attention to period detail, and spectacular, wall-to-wall craziness in the action scenes."
Aside from Sam, the SIGIL team delivers a cast of characters sure to please the most demanding of science fiction and fantasy fans. In fact, both factions in the book's conflict hold their fare share of unique and mysterious personages.
"There's an older Sigil warrior, Woodvine, who's Sam's point of contact and who trains her in the use of her powers—but very imperfectly, since they're fighting for their lives at the time," reveals Carey. "There's a much higher-ranking 'officer,' for want of a better word, Calico, who she talks to and later meets.
"The villain of the piece, October, is a Sigil-bearer for the other side. And then there's Lady Sin, the captain of the ship known to history as El Cazador, and a supporting cast of naval officers and cut-throats in the age of the buccaneers."
SIGIL may resonate with avid readers of science fiction—at least, its writer hopes so. He's got a few famous examples of the book's literary relatives in mind, ones you may recognize.
"It's in the same conceptual space as Fritz Leiber's 'The Big Time' and Poul Anderson's 'Corridors of Time,'" he notes. "SIGIL shows us a part of this huge, all-encompassing conflict, and it explores the idea that human history is a battlefield where the real forces that are clashing are invisible to us. In the worlds of the Sigil, there are [theaters] of war that are historical eras, and there are weapons that are almost semi-abstract. There are also weapons that are alive. Ultimately, the big questions are about who's behind this conflict and what's at stake."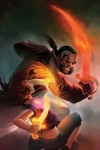 SIGIL #3 cover
Marvel fans familiar with Carey's work on such titles as X-MEN LEGACY and NEW MUTANTS should find much to appreciate with his sojourn into a whole new sandbox.
"I love super heroes, but its great fun to be writing all-out, big-idea sci-fi action for once," he says. "The most exciting thing [about it]?  Probably, scripting the action sequences and figuring out how the sigils work—how you'd use them in combat, and how they interact. It's crazy stuff.
"Oh, and the time travel. We do some really cool things with time."