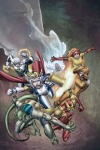 FEAR ITSELF: YOUTH IN REVOLT #1 cover by Giuseppe Camuncoli
By Ben Morse
In times of tragedy, the children inevitably suffer—but sometimes, they cause suffering as well, whether they mean to or not.
Longtime collaborators and Gravity co-creators Sean McKeever and Mike Norton reunite for FEAR ITSELF: YOUTH IN REVOLT, a limited series this May that will see former members of the Initiative drafted back into government service as the Marvel Universe begins to fall apart in a spiral of terror. However, despite these young heroes' best intent, things quickly go from bad to worse.
"With YOUTH IN REVOLT, we're taking a look at how a palpable sense of fear and despair can affect the younger generation of heroes," states McKeever. "In the first issue, they're deputized by the federal government in anticipation of terrible things to come, but what then? When they're rushed into action without any strategy, who suffers? When things get out of hand, who will step up and who will crumble? And how well can they stand up to their own fears?"
The series will primarily focus on the cast introduced by Dan Slott and Christos Gage over the course of AVENGERS: THE INITIATIVE; other members of Marvel's youth movement will become involved down the line though nobody involved with the project will tip their hat on just who. The former cadets have been walking a variety of paths since last we saw them, and not all have a strong desire to get back in the spotlight, as McKeever reveals:

Gravity
"Prodigy has finally found some stability in his life. Cloud 9 has given up the hero game. Thor Girl and Ultragirl are still in Georgia, kicking butt with the rest of their teammates in the Cavalry. Gravity's back to attending NYU and dealing with the after-effects of ONSLAUGHT UNLEASHED. Hardball and Komodo are…well, you'll see."
Though McKeever would not specifically reveal the inciting incident that fragments these would-be allies into a civil war of their own, he did offer some insight based on past ties and relationships.
"Thor Girl, with her Asgardian ties, is front and center for the event that starts to spin things out of control for the young heroes just as the rest of the world starts to do the same," teases the writer. "Gravity was the leader of Nevada's Heavy Hitters team for a bit, where Hardball served under him, and [those] two aren't exactly what you'd call a match, so that will play a role. Firestar initially comes with Gravity because he's in clear need of her friendship after ONSLAUGHT UNLEASHED and her leadership abilities and experience will come nicely into play here."
Speaking of Gravity, his co-creator, artist Mike Norton, makes his return to Marvel for the first time in nearly four years for YOUTH IN REVOLT, teaming once again with a writer he shares considerable history with.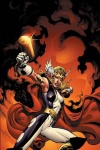 Thor Girl
"I was just doing some quick match and I realized Mike and I have collaborated on over 400 pages of comics together," notes McKeever. "The last time we did something at Marvel, we co-created Gravity, so to have him back in the art saddle for this story in particular is a real joy. Aside from being a great friend, he's far and away my favorite artist to work with. He brings such a wonderful mix of energy and emotion to the page that he makes me look good. We really have a great working chemistry, I think—a shorthand—that will definitely come across in the finished work."
While YOUTH IN REVOLT will certainly add a vital element to the larger Fear Itself event, expect the series to have its own pronounced arc and major ramifications for all characters involved.
"Initially, we'll be spinning directly out of the events of FEAR ITSELF #2," McKeever reveals. "Then from there we'll follow the main series' effects apace, tying in where it makes sense, but having our own parallel story and adversities to contend with."