By Ben Morse
Every week we'll pick a handful of awesome comics from the thousands available through Marvel Digital Comics Unlimited. From creator spotlights to editor's picks and more, this'll be your spot to find something new and cool.
We here at Marvel.com wish you a happy Valentine's Day with five special stories celebrating love lost, found and fought over—enjoy!
A genius like Mister Fantastic knows full well he solved an equation well beyond his means when he romanced the beautiful Susan Storm, aka The Invisible Girl, but can Reed Richards hold onto his lady when a sea-faring suitor comes calling? Thanks to The Human Torch, Namor the Sub-Mariner has been reborn and upon discovering his underwater kingdom of Atlantis destroyed, he's got a major mad-on for surface dwellers! However, one air-breather has caught his eye, in the lovely form of Ms. Storm. Can Reed Richards fight of ol' fish face and not lose his lady in the process?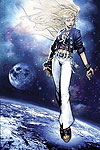 Karolina Dean has had to deal with far more than any teenager should in her young life: She's an alien, her parents were super villains, and she's only recently come to terms with her sexuality. So Just as Karolina's starting to figure stuff out, a living monkey wrench representing all these revelations arrives in the form of Xavin, a Skrull prince to whom she's been promised in an arranged marriage. Will the Runaways let their teammate walk the intergalactic aisle? No way! But what if she wants to?
Following his split with Mary Jane Watson, Peter Parker thinks his love life has come crashing down, but could Spider-Man actually save the day for his alter ego? Enter Kitty Pryde: A member of the X-Men with the ability to phase through solid objects and a major crush of Spidey as well as Peter. Follow the young heroes on their first "date" and see how two extraordinary individuals get together!
It's the wedding of the century and you're invited! However, the rest of the Marvel Universe also RSVPed, and that includes both Captain America and Iron Man at the height of their Civil War! Will The Black Panther and Storm's nuptials provide a suitable peace summit for the clashing factions and reunite the Avengers? Can Ororo can the blessing of the Panther God on her special day? Will The Watcher blubber through the ceremony and flood Wakanda in the process? All these answers and more!
One of the Marvel Universe's most dynamite duos reunites! There's never a dull moment when Clint Barton and Bobbi Morse get together, and with the latter back from the "dead" and looking to reassert herself in the spy game, this covert couple's set for danger the way they love it! Plagued by their old foe Crossfire and a new Phantom Rider, Hawkeye and Mockingbird attempt to work together for their common good, but when the old sparks fly, will their chemistry prove too hot to handle?