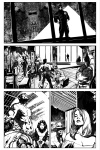 X-MEN: PRELUDE #1 black and white preview art by Roberto De La Torre
By Kevin Mahadeo
What does it take to lead? Strength? Experience? Vision? Power? Four different characters. Four different answers. But one man guides it all: writer Paul Jenkins, who pens the upcoming four issue limited series X-MEN PRELUDE starting in May, which not only ponders this query but also sets the stage for the next major mutant event of the Marvel Universe.
"That's one of those things that I answer very coyly," teases Jenkins when asked about the title of the series. "It's a prelude to something very, very interesting and important that's coming down in the Marvel Universe. Much more, I cannot say, but there's something in the works."
PRELUDE takes place on the eve of the metaphorical coming storm, right as a mysterious threat makes its way toward the shores of Utopia, and examines the idea of leadership from the perspective of four of the X-Men's biggest players: Cyclops, Wolverine, Professor X and Magneto.
"Xavier has historically been the leader of the good guys, if you will, and Magneto had always been the leader of the rebellious bad guys," explains Jenkins. "They have clashed about how things should be done, and the truth is that none of them could have brought the X-Men to the place they're at right now. Neither of them succeeded. In this mix, you have a guy like Wolverine who has his own thoughts on leadership and a style of working. Then you have Cyclops who has actually been successful in doing it."
Each issue spans the same expanse of time but individually unfolds from the viewpoint of one of the four previously mentioned characters. Jenkins compares the format to the film "Rashomon," with readers getting a chance to "see the same scene played out but with the inner most thoughts of each of the participants." As such, a different artist pencils each issue, something that Jenkins believes really lends itself well to his particular style of storytelling.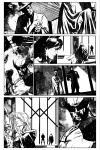 X-MEN: PRELUDE #1 black and white preview art by Roberto De La Torre
"I'm very fond of doing these vignette stories," he says. "I really like doing them, and I've always felt great about them. Because we have different perspectives here, it can also work really well with different artists."
Jenkins, along with editors Axel Alonso and Nick Lowe, spent a lot of time exploring each X-Man's thoughts and opinions about what it takes to wear the figurative crown. The writer decided to keep the more intricate aspects of these theories to himself, but hinted at the broader strokes and themes:
"Wolverine's concept would be that leaders are about strength. The leader is the strongest of the wolf pack because that's where he really comes from. It's quite often physical strength, but it's strength and endurance and that's all it is to someone like Logan. He's a smart guy, but even so, that's been his experience. The strongest will always rise to the stop and the strongest leader is the most necessary leader in all events. And since you're facing such a difficult and crazy event, as we set up in the story, you need to make sure the right leader is there."
On the other hand, Jenkins posits that the X-Men's original leader and founder Charles Xavier looks at the role in a more passive light. To Xavier, one must lead by example and not force. This, of course, stands in contrast of not only Wolverine's outlook but Magneto's as well.
"Magneto's concept is having experience, especially with some of the things he experienced in his childhood. To be a leader [in his mind] you need to do whatever it takes, but more importantly, you must be willing to go wherever it takes you. You think about Magneto right now, he of all people would be most incredibly appreciative of Cyclops, who is the one person who was able to do what he was never able to do and what Xavier was never able to do. So, you could see him as being the guy who really drinks the Kool-Aid of Cyclops."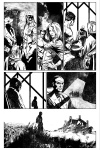 X-MEN: PRELUDE #1 black and white preview art by Roberto De La Torre
As for the current man in charge, Jenkins proposes that Cyclops' stance ironically relates to the one thing he physically lacks:
"What I originally had written down for him was that to be a leader, it's not really about what you see—because look at his eyes—but it's about if you have vision. Whether you can see every single angle and then make a decision. Another concept I put into this story is that he's so different from Wolverine because to be a leader, the hardest thing is to not lead from the front and die for your people. The hardest thing is to perhaps order one of your people to their death. You have to be prepared to do that thing in order to be leader."
Although he has previously spent some time with the mighty mutants of Marvel on such titles as WOLVERINE: ORIGIN and MYTHOS: X-MEN, PRELUDE marks the first time Jenkins ever "sat down with the X-Men for four or five months in a row and really drilled into them."
"It's kind of what I've been doing across the Marvel Universe. I've worked with a lot of the editors lately and I'm setting up more to go into each group of characters and try to define them in my voice. The X-Men story came out because of that. It was a good opportune time in X-Men history because the guys in the X-Office have some big plans and it's great to be a part of it."